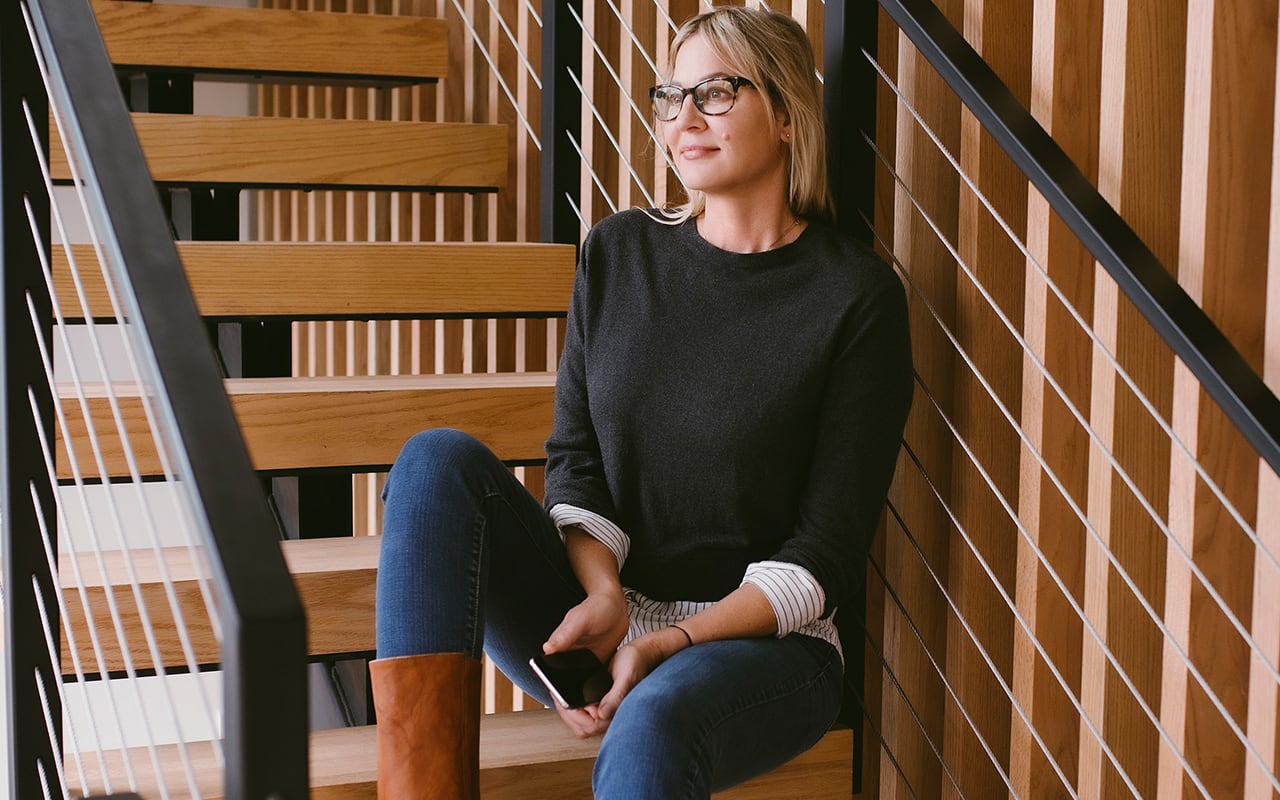 Passionate. Determined. Genuine.
Annette Patterson, a Texas-raised 35-year resident of Austin, has that unique combination of qualities you need in an agent working in Austin's fast-paced real estate market: a big picture view of this city and its changing neighborhoods, a high standard of professionalism, and an innate talent for understanding homes. All of that, plus this savvy Austinite is known for being both on her game and a lot of fun to work with. Having worked for 20 years in advertising sales at the iconic local weekly, The Austin Chronicle, Annette gained ample first-hand knowledge of what gives Austin its unique buzz: the creative trailblazers, the music scene, the places to be. A graduate of the University of Texas with a degree in Communications/Advertising, Annette loved this city and its charms long before the rest of the world caught on. To Annette, there's nowhere more perfect than Austin–with its mash-up of funky, historic and modern architecture. ​​​​​​​A long term real estate investor, she knows how to make the most of changes in the Austin real estate market. She has in-depth
knowledge of the city's oldest neighborhoods as well as the planned communities and new developments popping up as our city grows. She now lives in one of Austin's most buzzing neighborhoods, North Loop, where she and her family enjoy biking, walking to local restaurants, and absorbing the eclectic culture of UT students, families and professionals that make this neighborhood tick. Always fascinated by design and what makes a house unique, Annette became a full-time realtor to help people find a house and make it a home. Driven and down-to-earth, Annette believes in staying on top of things, which is one reason she's been successful in helping first time and move-up buyers purchase and sell their homes. Whatever your real estate priority might be—to buy or sell a bungalow in one of Austin's established neighborhoods, settle down in one of the area's newer communities, make an investment, find a lot to build, or purchase the hill country ranch you've always wanted–Annette's goal is to make your dwelling her top priority.

Annette was so helpful with my purchase of a home in Round Rock. She communicated with my daughters and me to find desires and needs. She then provided a daily search of the areas of interest. She was very prompt to respond to any request and patient with my computer inabilities. I would recommend her to anyone in search of a home.
Annette Patterson negotiated the sale of my home in Wimberley, TX. She was extremely knowledgeable, supportive and gave me sound and wise advice. Annette created a warm relationship with the buyer and their agent and was helpful above and beyond the necessary. I was very impressed with her professionalism and I will be sure to seek her out when it comes time to purchase another home.
With Annette, buying our first home was an exciting experience instead of a nerve-wracking one. She actively represented us, keeping our needs the top priority in finding and buying our home. She was there for us every step of the way, whether it was 7am or 10pm, answering our questions. We recommend her to friends all the time!
Professionally Annette is clearly very good at what she does, so there's that. She's conscientious, intuitive and helped us make tough decisions that ultimately made us money. Personality wise she's got this rare mix of no-nonsense confidence but also fun, funny and cool all at the same time. You trust her and you enjoy spending time with her which is rare and makes the home buying process (which has the potential to be nerve wracking) a joy.
As a first time homebuyer, I was utterly clueless. I had no idea how the process of buying a house even worked or what to expect at all, but one thing was certain: the whole thing terrified me. From the beginning, Annette Patterson put my mind at ease. She guided me through every step of the process, quieted my apprehensions, answered my endless questions, maintained steady contact with me, and worked tirelessly to get me into my fantastic home. A million thank you's to Annette!
Annette Patterson worked with me on both the buying and selling side of my recent real estate transactions. She was a rock star in every way! As a seller's agent, she deftly navigated a pretty crazy market- we had multiple offers to sort through, contracts that fell through, and unexpected things that popped up from the inspection report. Annette kept a cool head and was very practical and even keeled, giving terrific advice and handling all the back-and-forths with various parties forthrightly and with grace, all the while looking out for my best interest. I always knew Annette had my back and was on top of whatever was going on! It was an emotional sale for me, but Annette worked hard to make it a smooth and easy experience. Annette helped me get a great price for my home.
We've been busy enjoying personalizing the house Annette helped me buy. She was indeed a great help! She drove all over the place at the drop of hat to show me whatever crazy houses I thought I could make work and then helped me figure out just what I wanted. We found a great place for me after a good amount of looking and I'm really super happy with it.
I really can't say enough great things about Annette. Throughout our home search, Annette was beyond helpful, knowledgeable and patient, as we slowly pieced together the listings, neighborhoods, and finally, the house that was right for us. We'll most definitely be calling on her again when we next look for a home.
Annette Patterson sales agent at SEED Property Group helped my wife & I sell our home in Round Rock! Professional & organized to do the job at hand. Great marketing ideas to promote the property. But the best was advice that was given to me during the negotiation process that helped guide me to close the sale! Thank you, Annette!
We had been trying to sell our house for a couple months with another realtor, getting no results, then switched to Annette and that made all the difference ! She got us 2 offers within a week. Amazing job, very straightforward, understanding, pro-active, dedicated, a real neighborhood expert...overall very professional and great person to work with. Thrilled with the relationship and the outcome, would highly recommend!
Annette was great! As a first time home buyer, I didn't know anything. Annette explained how the process works, put me in touch with a mortgage broker, and focused the search so that I looked at only a few houses before finding the right one. When the right house did come on the market, Annette called me that morning so that I was the first to view it and first to put in an offer. Annette made such an important purchase easy.
Annette Patterson was great to work with. She was friendly and always willing to help me in whatever way I asked her to. She went out of her way more than once to "talk me off a cliff." I'm glad I got to meet her. I would definitely recommend her to my friends.
I've lived in Austin for years. I thought I could find my way to the perfect house without help. After frustrations galore and almost giving up, I hooked up with Annette Patterson. My lucky day. It took her less than a week to find me just what I wanted, below what I was expecting to pay. Her savvy in coming up with ways to negotiate closing costs saved me several thousand more. She displayed an expertise in reading the subtleties of the Austin market and knowing how to make things happen that sure worked for me.
Fast, fast, fast sale allowing me to purchase the house I hadn't even been looking for. It found me and I needed to sell immediately. I did! And got a very good price and excellent service every step of the way. Annette Patterson both listed my house for sale and helped me purchase the new one. I came out ahead on both sides of the transaction. Thanks Annette. I will, of course, be delighted to recommend her the next time someone asks me about Realtors.
After several months I decided to place my childhood home in Austin for sale. My home needed to be sold As-is, so this was a challenging property, I thought. I was so fortunate to have been introduced to Annette at SEED Properties. Since this was my first time to sell a house in Austin, Annette walked me through the process, making it painless. She worked with potential buyers, keeping me posted throughout the process. I closed on my house 14 days from the day the sign was placed in the yard. If you find yourself in need of a realtor I would highly recommend contacting Annette at SEED Properties. She's the best!
We were very satisfied and impressed with SEED and our realtor, Annette Patterson. She made herself available to answer any questions and inform us of the home buying process since we were first time buyers. Annette discussed our preferences with us and we received a daily digest of houses that met our criteria. She was very quick to bring us on a tour of any house that caught our eye, quick to answer any questions we had, and patient with us as we slowly got ourselves ready to buy. She was an excellent negotiator and pointed out things we didn't even know to look for. I've already recommended Annette to friends who are looking to buy and I'd happily recommend her to anyone else who is ready to buy a home.
They said it couldn't be done! "Market this and economy that." Annette Patterson believed in my property and she made it happen. Sharp as a tack, quick as a whip, one tall glass of water, cool as the breeze - She sold my property with the greatest of ease!
When I think someone is above board, I am not shy about telling anyone who will listen that I believe this is the person whom they should hire to do the job... She exceeded our expectations in every single facet of her role. I won't simply refer her to friends and family, I'll insist that they give her a call. Believe me when I say that Annette is far and away the best realtor we've ever dealt with. It's not even close.
Annette saved us over $10,000 by negotiating the price of our new home back to when we first viewed it the month previous. The Seed Property Group are a full service realtor. They provided the names and contact information of all the utilities we needed to contact before we closed. And they continue to remind us of warranty deadlines and tax filings we need to do in a timely fashion. I consider them as friends and would not hesitate to contact either of them if I thought they could help with some unforeseen problem. Annette was underpaid for the services she rendered.
I was referred to SEED by a friend. I was looking for a realtor STAT, & these gals (& guys) were awesome right off the bat. So friendly, so professional, so knowledgeable. My realtor, Annette, takes the cake & couldn't be better, although I've met a handful of folks in the group & they're all super lovely. I definitely recommend them!
We made the right decision to hire Annette Patterson from Seed to both sell our house and to purchase our new house. The agents at Seed are not only experts in central Austin real estate, but they are also thoughtful and responsive people who look out for your best interests in negotiating and house hunting. They also offer a well-balanced dose of honesty in decision making in regards to selling a property. Annette knows Hyde Park and was honest about how much to sell our house as well as how much we should offer for the house we bought. In the end, it takes both the agent and the client to make it work. We relied on our own research and Annette's advice to make the best choices. Did I mention how patient Annette was with us? (we looked at TONS of houses!)
Annette and SEED did a wonderful job helping us buy our new house! Annette was extremely responsive, offered great advice, and made everything extremely smooth. Highly recommended!
"My wife and I hired Annette with SEED and had the best experience. She and Chelsea managed our transaction so smoothly and found us many qualified buyers within 48 hours of listing. The listing was excellent and was a seamless process, even during all the coronavirus madness. Very highly recommend working with them."
Annette Patterson is fantastic! She helped sell our home in North Loop, and we had an offer within the first week. I was so impressed with the marketing! She sent postcards to everyone in our neighborhood, had someone take drone photos in the house (didn't even know that was a thing), and created a 3D floor plan. It looked so beautiful - it made me sad to leave. Without her, we would have priced our home too low. She is super responsive (as is superstar Chelsea), knowledgeable, and patient! I don't even know how many times I texted her with random questions. My husband and I were continually impressed with her every step of the way. We left Austin, but if we come back, we will for sure use her! Highly recommend!