Is it time to find a new way to cook? Not figuratively, like should I try one of those meal kit delivery services, but literally—like I'm tired of my outdated appliances. The good news about upgrading your cooking experience is that it's a relatively quick fix that doesn't require major demo and delivers (almost) all the fun of a new kitchen. When it comes to cooking options, your friends at SEED have tried them all—ok, maybe not all but definitely a bunch—and have some recommendations based on what's most important in your home kitchen. Read below to find the perfect match for your cooking style and personality.
For the would-be professional, at-home chef: There's a reason that Viking ranges have been the go-to choice of the most discerning home chefs for decades. They were the first company to offer professional-grade stoves in a residential environment, and they are currently part of the largest commercial kitchen equipment manufacturer in the world. When you choose Viking you know exactly what you're getting: cooking perfection (more or less). SEED pick for luxury reliability.
Other options for cooking enthusiasts looking for a (relatively) more affordable option: or .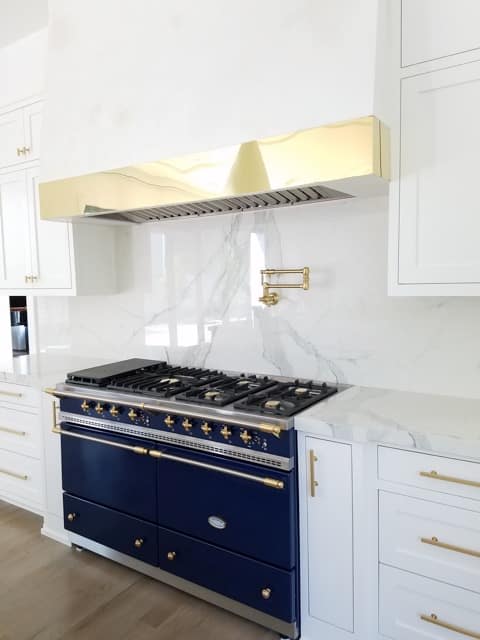 Courtesy www.frenchranges.com
For the Elle Décor junkie: If you spend your days leafing through design magazines or scrolling through your Instagram feed ogling over the ultimate in stylish kitchens, odds are you've come across a range or two. These handcrafted French beauties are endlessly customizable from top to bottom. We hear their performance is top-notch as well, but when something looks this amazing, do we really care? SEED pick for beauty and international flair.
Francophiles might also want to consider Lacanche. Or if you desire copper-colored handles and knobs (for example), but you aren't wild about the $10K starting point of the French ranges, the GE Café series offers its own version of customization at affordable prices.
For the one without a gas line: "Proper" chefs swear by only cooking with gas, but sometimes you inherit a kitchen that doesn't have a gas line, and you have to work with the hand you're dealt. All-electric ranges are not created equal—KitchenAid is a trusted appliance brand that consistently cranks out affordable, yet stylish, options for the everyday cook. Their electric range is just as stylish as their gas version, so you get style and function all in one. SEED pick for affordable reliability with style. Another line offering sensible electric ranges is , KitchenAid's parent company.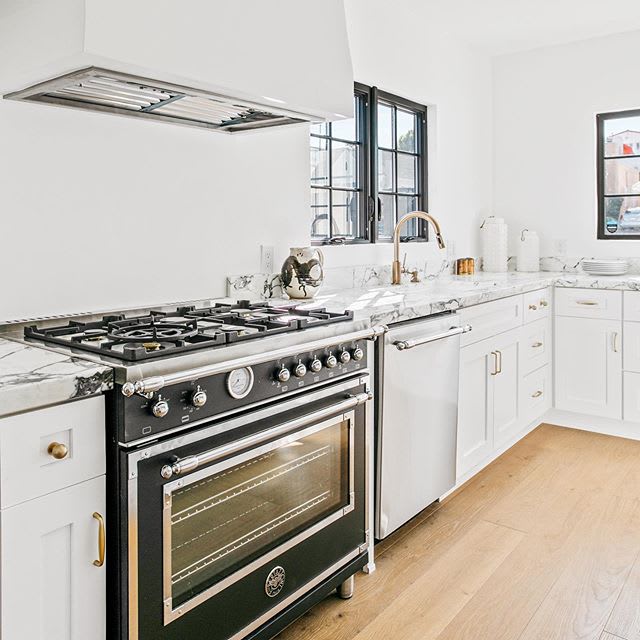 Courtesy of @bertazzoni_official.
For the trendsetter: You may not have seen one yet, but there's a cute little Italian brand making strides in U.S. kitchens for its combination of style + function + price point. Meet : the heritage series is on par in the looks department with the fancy French guys, the master series is a doppelganger for Viking, and the professional series offers fun color options like red and orange. Don't be surprised when you start seeing this brand pop up all over Austin. You heard it here first. SEED pick for the best all-round value + style.
Fun fact: Italian brand (you may know them from their chic retro refrigerator line) is a literal cousin to Bertazzoni. They are from the same family in Northern Italy.
SEED Cheat Sheet: Gas vs. Electric vs. Dual Fuel vs. Induction
Gas and electric are pretty straight-forward when it comes to cooktops, and sometimes your decision is simply based on circumstance or personal preference. Dual Fuel means your range has a gas cooktop with an electric oven. This style is gaining popularity for those who want the best of both in the cooking worlds, given the ease of self-cleaning electric ovens. Induction is a technology that uses a magnetic field, vs. gas or an electric element, to heat your pan. This method is also gaining popularity in the 21st century because it heats up faster than both gas and electric, thereby saving time and energy. Experts offer pros and cons on all the above methods of cooking, but at the end of the day it comes down to what works best for you, your lifestyle and your wallet.
Now that you have the appliance situation sorted out, you might consider tackling a bigger project—like a full-fledged kitchen remodel or even taking up residence somewhere else. Whatever your real estate needs, SEED Property Group is the Austin-area expert, and we are here to make everything about buying and selling easier on you!