Typically, November proves to be a sluggish month for real estate sales in Austin, but, as last month's election was far from typical, so were the local Austin real estate stats.
The most up-to-date sales data released from the Austin Board of REALTORS­® this past week, reveal double-digit sales volume growth year over year, indicating the pre-election slump/uncertainty for many buyers has now come and gone.
In the Austin area, total home sales rose 15% to 2155, the median sales price continued to rise by 7% to $294,245.
In the city of Austin proper, single-family home sales increased 14% year over year to 654 homes sold, and median sales price increased by 4% to $342,000.
Active listing inventory across the Austin market remains low at 2.3 months. The Real Estate Center at Texas A&M University cites that a balance of housing supply and demand is achieved when housing supply levels are between 6.0 and 6.5 months of inventory. Aaron Farmer, 2016 President of the Austin Board of REALTORS­® said, "Housing inventory will continue to be one of the biggest challenges facing the Central Texas housing market in 2017." He added, "In some local markets such as Round Rock, inventory levels have fallen below 1.0 months, which means that available housing stock is practically non-existent. It's critical that our cities' leaders begin to look at housing affordability not as just an Austin issue, but an issue affecting our entire region."


As you may have heard, Austin made another top ten list, this time for the largest home price increase since 2006 (the peak of the housing market, or very near).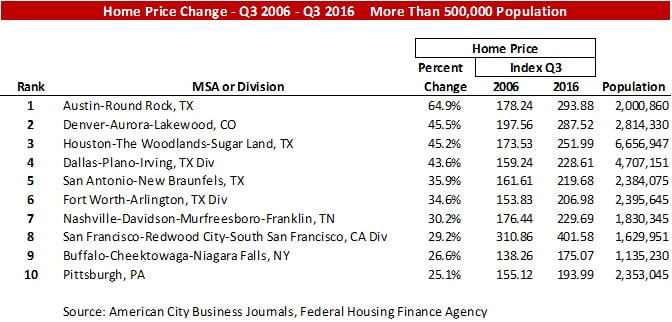 While our home prices have increased, it should be noted, that according to this study, the Austin home price index still remains lower than cities like San Jose, Los Angeles, Oakland, and San Diego.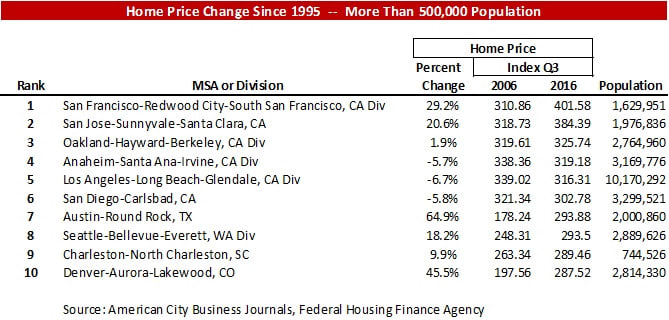 It's no wonder Austin still remains on the radar for companies like Amazon, Apple, and Oracle who continue to expand Austin campuses and jobs.
Many of these high tech jobs will be filled by millennials. Millennial homebuyers, according to Mark Sprague, state director of information capital for Independence Title, comprise 51 percent of the Central Texas market. He explains further, and they "have never experienced an interest rate greater than four percent and thus could be motivated to buy sooner."
Mortgage interest rates ticked up this past week to 4.16%. The average rate in 2015 was 3.96%. Still, according to Len Keifer, deputy chief economist for Freddie Mac, "We still have quite a ways to go for rates to be even close to average." In 1996, the average rate was 5.67%, and in 1990 it was 10.13%.