Austin's suburbs are booming. While, many long time Austinites still won't dare set foot north of 183 ("What IS the Domain anyway?"), many other Austinites are fully embracing the allure of Austin suburban neighborhoods, most notability, that they are affordable. New numbers from the US Census data show that 3 of the top 15 "Fastest Growing Cities" are Austin suburbs including Georgetown (#1), New Braunfels (#2), and Pflugerville (#11).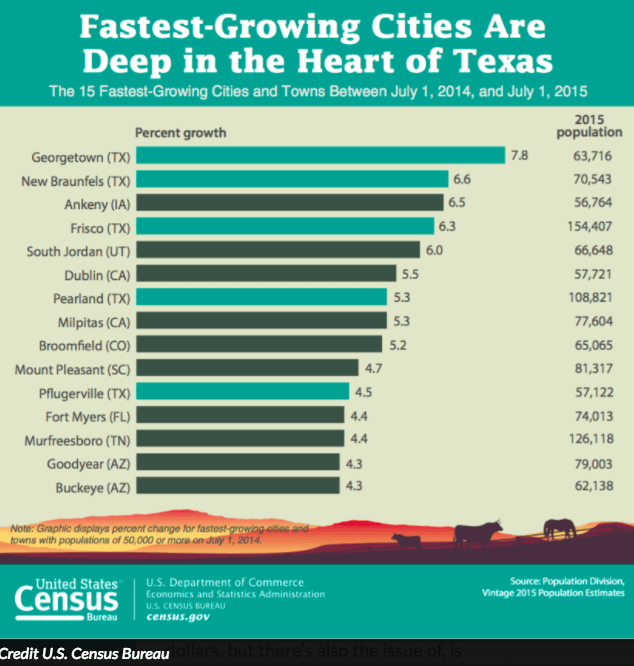 Austin suburbs Georgetown, New Braunfels, and Pflugerville take 3 of the top 15 positions for fastest growing US cities.
Drawn by our strong Texas economy, affordable housing options, excellent schools, modern amenities () and a wide range of leisure time activities… folks are indeed moving to our suburbs, and in fact, more than we thought were coming in the first place.
According to city of , "Austin's enormous population growth continues to be driven mainly by in-migrating households drawn here by sustained, robust job creation and a high quality of life. I keep looking for the crest of this huge wave of growth we're riding and I just don't see it yet, especially in light of these new data which strongly suggest we are still Boomtown, USA."
Our population boom is certainly contributing to our robust real estate market. While sales across the Austin area were relatively flat (yet strong) for the first quarter 2017, last month we saw larger increases in both sales volume and inventory year over year, indicating a strong selling summer is on the way.
Sales in Austin-Round Rock market area have increased 3.2 percent year-over-year last month according to the Austin Board of Realtors stats released this past week. In the city of Austin proper, where limited inventory often stifles sales volume growth, sales rose 2.2 percent annually to 827 homes sales in April 2017.
Homes sales across the region have been partly fueled by new home construction, particularly in the north and northwest suburbs of Georgetown, Round Rock, Pflugerville, Cedar Park, and West Leander but also in the southern suburbs like Hutto, Kyle, and Buda. Last week, a new study by Metrostudy, reported that new home starts (this is the number of new construction permits/home foundations poured) was up nearly 15 percent year over year. Also according to Metrostudy, 47 percent of the new homes being built are priced $200,000-$300,000.
Many home owners have determined now is the time to sell with both active listings and monthly housing inventory experiencing significant gains throughout the five-county area in April 2017. Active listings jumped 16.9 percent year-over-year to 6,474 listings in the Austin-Round Rock MSA and rose 14.6 percent year-over-year to 1,564 listings within the city of Austin.
Monthly housing inventory increased 0.3 months from April 2016 to 2.6 months of inventory in the Austin-Round Rock MSA. City of Austin housing inventory remains the most constrained throughout the region, increasing 0.2 months during the same time frame to 2.0 months of inventory in April 2017.
Home prices posted moderate gains last month. In the Austin-Round Rock MSA, median sales price for single-family homes increased 5.8 percent year-over-year to $305,000. In the city of Austin, median price increased 4.1 percent to $370,600 during the same time frame.
Single-family home prices remain most affordable in Hays (to the south and southwest) and Williamson Counties (to the north), but it's also where home prices are rising the fastest. In April 2017, the median price for single-family homes in Hays County increased 7.1 annually to $267,500, while median price increased 7.0 percent in Williamson County to $275,000.