SEED Property Group, local boutique Austin broker, provides insight to Austin's rapid moving real estate market.
Ahead of some pretty spectacular cities like Seattle, San Francisco, and Dallas, According to Forbes, Austin comes in at #1 for the fastest growing city in America. This quick moving 3.15% annual population growth along with a strong job market are driving inventory down, and pushing sales prices up.
According to the Austin Board of Realtors, in August 2016, year over year, city of Austin homes sales, constrained by continuous limited inventory, remain virtually flat year over year, with 868 closed sales in August 2016 (a .08% increase). Meanwhile, median sales prices in the city of Austin increased 10% year over year to $356,276. Similarly, in the Austin market area as a whole, sales of single family homes increased by 5% year over year, and median sales price increased by 9% to $289,990.
With the population growing and single family home sales in the city of Austin flat year over year, many are wondering – where are all of these new Austinites living?
In counties with new construction homes, like Hays and Williamson, August 2016 sales year over year, sales are seeing growth into the double digits. Home sales in Hayes county increased 23% year over year. From Dripping Springs to Buda, new home communities such asHeadwaters and Caliterra are on the rise.
According to Mark Wolf, CEO of Austin based real estate developer AVH Communities, "Increasingly, people are renting by choice, particularly among higher-income households." AVH Communities recently launched this single family rental community in Pflugerville.
And then there is downtown. The Independent, aka "jenga tower", Austin's new high rise luxury condo development located across from the Seaholm project will be Austin's tallest tower at 58 stories and provide 370 new homes. East Austin's Fourth& community will provide 97 new homes ranging from $259,000 (micro lofts) to $600,000.
What prices ranges are selling the fastest in Austin real estate market?
In August 2016, homes under $300,000, on average, were on market 12 days. Homes priced $300,000 – $500,000 lasted a mere 18 days on average. Luxury homes priced over $1 Million had highest days on market.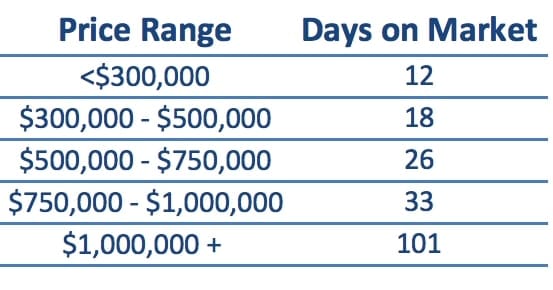 For more information about our Austin real estate market or a pricing analysis of your own Austin home, contact a SEED agent today.