The latest market stats from the reveal the housing demand in Austin just continues to climb. Single-family home sales rose 9% year-over-year in the Austin-Round Rock market area to 3,170 homes sold – AN ALL TIME HIGH for our market. In the city of Austin proper, where sales are often stifled by limited inventory, 993 homes sold, a 9.7% increase year-over-year.
Austin's steady housing demand continues to push the median home price upward. From May 2016 to May 2017 the median home price for a single-family home in Austin-Round Rock market area increased to $310,000, an 8% increase. In the city of Austin property, the median home price rose to $380,000 (that's 8.6% higher than last year at this time).
As remains center stage of Austin growing pains, the city hopes to encourage more affordable housing with CodeNext, the overhaul of our building code currently in progress. The includes increased density incentives, a broader range of housing types and sizes, broader range of business buildings (i.e. live work).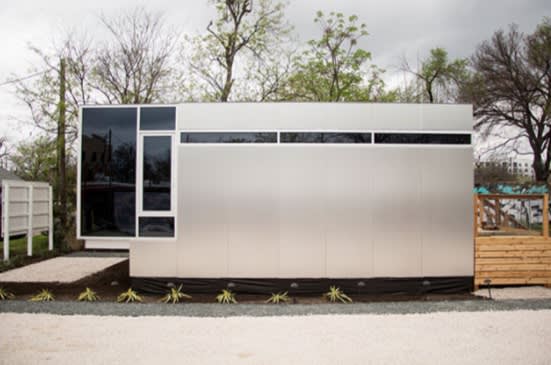 Get your very own backyard pre-fab Kasita starting at $139,000.
Meanwhile, local Austin entrepreneurs , are bringing creative affordable housing solutions to market like . Kasita, aims to take a stab at affordability with modern, prefab homes starting at $139,000 (not including the lot). According to Wilson: "a big thing we'd like to do in Austin is ad housing stock by putting Kasitas in backyards as granny flats, as accessory dwelling units. Then those can be rented out as affordable housing or at the market rate."
Much of Austin's single family home sales volume growth can be attributed to increased inventory across Austin. Year over year, active listings in the Austin-Round Rock market area jumped 22%; new listings jumped 15%; pending sales rose7.7%.
Yet, the housing inventory across the market area remains low, hovering at 2 months worth of inventory. Inventory of homes priced under $250,000 is less than 1 month of inventory throughout the Austin market area. Hence, while inventory is on the rise, the inventory that is being added is at higher price points.
According to a study recently released by the National Apartment Association, Austin will be adding 114,000 apartments by the year 2030 to support population growth. This is a 49% growth rate, ranking third among the 50 metro areas covered in the National Apartment Association study. Raleigh, North Carolina and Orlando, Florida ranked higher.
Kind of makes you want to be a landlord right?