Summer is just around the corner, and your friends at SEED have a family-friendly activity that will keep both children and adults busy…at least for a couple hours: street art spotting!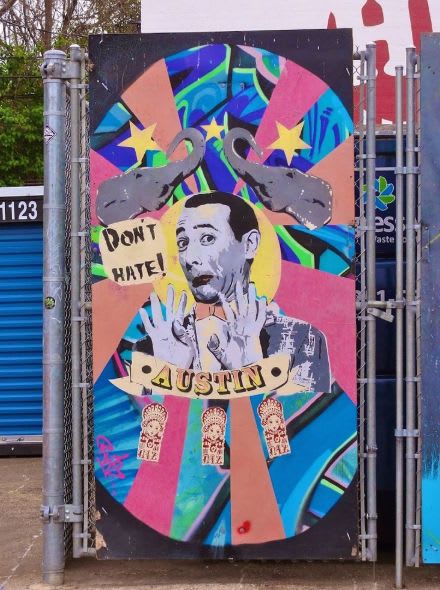 Austin is home to hundreds of vibrant murals scattered throughout the city, some of which you probably drive by on a regular basis whether you realize it or not. Below we've rounded up some of the city's most popular (and some of the more obscure) street art and categorized them, so you can create a mural scavenger hunt tailored to your own interests. Even if you don't have little ones in tow, at any time.
The Friendly Ones:
i love you so much: Located at 1300 South Congress Avenue on the side of Jo's coffee shop, this iconic Austin mural is the long-standing photo op of choice for everything from proposals to Christmas card greetings.
Hi, How Are You: Check out the famed alien-like bullfrog (aka "Jeremiah the Innocent") from artist/musician Daniel Johnston that's keeping it weird in a good-natured way on the corner of Guadalupe and 21st
Wasabi: Over on East 7th Street this cartoonish mural is a cute, quirky Austin way of saying, "What's up?"
Howdy: We are in Texas, after all, as this relative newcomer to the Austin mural scene reminds us while driving past 601 West 6th
Hello: Stop by 1102 W. Koenig just to say "hello" to this detailed part-tiger-part-airplane-not-sure-what-it-is-but-just-go-with-it mural.
The Musical Ones:
Janis Joplin, Jim Morrison, Jimi Hendrix and Willie Nelson (to name a few) are the subject of a retro black and white mural at 914 North Lamar.
At 24th Street and Guadalupe you'll find Johnny Cash and Buddy Holly along with other legends of music (and, yes, another Willie Nelson).
Look for Run DMC at 1905 South 1st Street complete with 80s street style and boom box (but no Willie Nelson).
[Fun new game: see how many Willie Nelson murals you can spot throughout the city. There's another one at Homeslice Pizza on South Congress, but we won't disclose them all.]
An ode to South Austin musicians at 1402 South Lamar highlights local talents such as Alejandro Escoveda, Kevin Fowler and Papa Mali.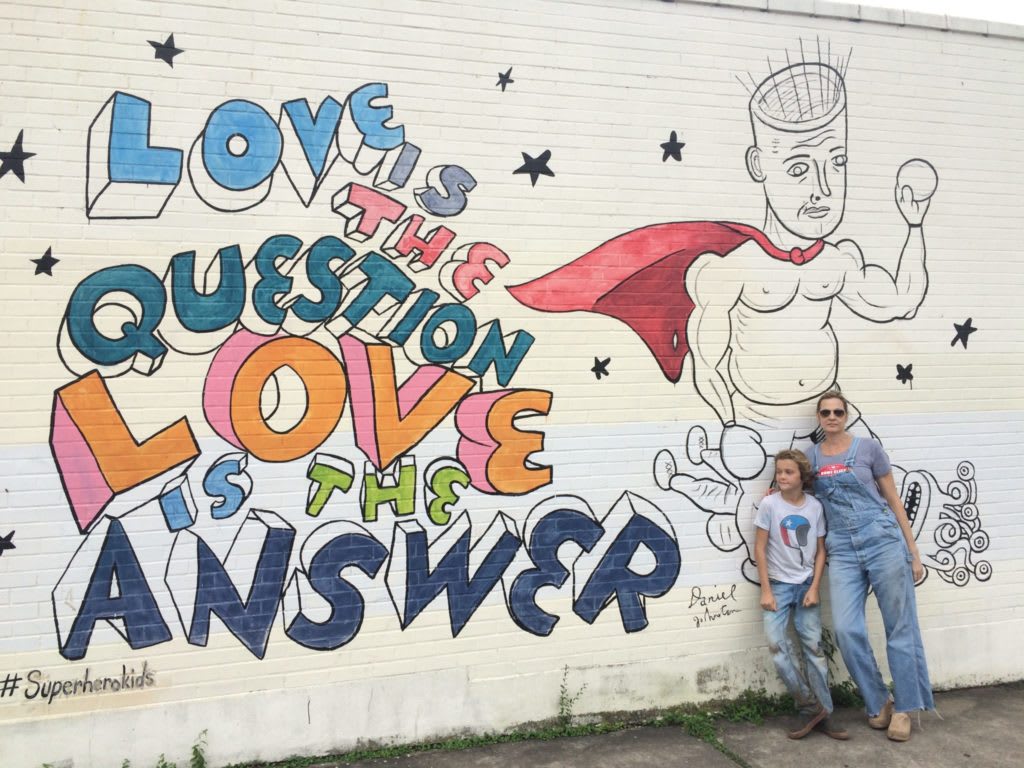 Daniel Johnston's newest mural for the Superhero Kids campaign – Nau's Enfield at 1115 West Lynn Street
The Prideful Ones:
I (Heart) Austin: Austin loves being Austin, especially when it comes to street art as this mural anchoring the side of Austin Simply Fit on Burnet Road reminds us.
TEXAS: Stare directly into the 'X' on this bold mural, where you'll see "Austin" prominently displayed (3700 Guadalupe).
Greetings from Austin: perhaps the most recognizable of all Austin street art is this postcard-inspired mural on the corner of Annie and South 1st .
Mexic-Arte Museum: The El Mero Muro project on 5th and S. Congress from South Austin's Mexic-Arte Museum boasts some of the most vivid murals in the city, including the ever-popular "'Till Death Do Us Part" that's served as the backdrop for many an engagement photo session. The most recent addition is a modern, socially conscious reimagining of Wonder Woman by stencil artist Eleanor Herasimchuk as a part of a new round of innovative, bilingual series of murals sponsored by the museum.
The Quirky Ones: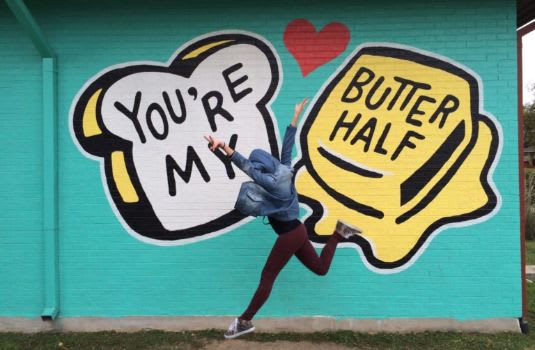 You're my Butter Half: It's bright, colorful, cheer ful and guaranteed to put a smile on your face. Go check it out at 2000 E MLK Blvd.
Sparky Park: While not a mural per se, the grotto at Sparky Park, 3701 Grooms Street, is a former electrical substation that has turned into a junk—for lack of a better word—art masterpiece. Upon close inspection you'll discover painted stucco,mirror balls, shells, broken glass dishes and other objets d'art that decorate this funky outdoor space. While "broken glass dishes" may not sound like an ideal place to take the kids for an afternoon hangout, it's actually a perfect place for children to explore. It's like a whacky, Austin fairytale world.