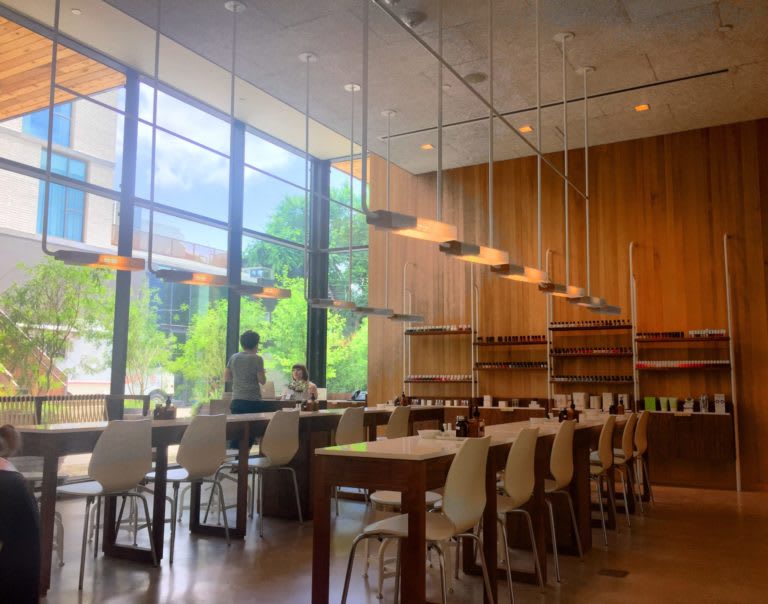 Tenoverten, the upscale but down-to-earth Manhattan nail spa, has been keeping the toes of New Yorkers pedi-ready for years. Happily, they've just stretched their foothold beyond the island –and their first stop is Austin. Lucky us.
When you walk in to Austin's Tenoverten, a streamlined retreat tucked behind the South Congress Hotel, you know that you are in for a treat. A smooth wooden wall adorned in pretty little bottles of non-chemical nail polish is the grown up girl's candy counter—so many shades to choose from. Should you go with Nars' Manosque, a rich coffee brown that sings urban sophistication? Or a bright coral by RGB that transports you to the sandy beaches of Saint Croix? Don't fret the choice too much—they offer such a well-curated selection, no matter what your toes will be pleased.
The hip but not too hip staff are professionals who chisel away like sculptors in pursuit of those highest of pedi qualities: shape, smoothness, exfoliation, cuticle liberation. The massage, which is good enough it can put you in a trance, is almost like reflexology—and if you go for the Luxe pedicure, you also get a hot stone massage, which helps the nervous system overall relax into an audible sigh.
For a little extra fun, book a treatment with a friend in the afternoon and then head just across the courtyard for tasty cocktails at the Grand Central bar and restaurant afterwards. When Tenoverten (ten fingers over ten toes) is done with you, you, too, will feel like a toe-tal ten.
To see a full range of services and other info, see: