Austin's local businesses have been weaving the city's quirky, cool vibe since before most of us can remember. Here's a look at some of the oldies but goodies that Austin just wouldn't be Austin without.
The Paramount Theatre: For more than 100 years this Austin landmark located at 713 Congress Avenue has cultivated our city's art and entertainment scene. Ever-evolving with the times – the theater has presented everything from Vaudeville in the early 1900s to world movie premiers in the 1960s.. to legendary rock stars today.
Avenue B Grocery: While you wouldn't be able to exactly stockpile canned goods for the millennium here—you can find a selection of groceries and, more importantly, some of the most delicious hand-crafted sandwiches in Austin. Built in 1909 and maintained through the current (10th) owner, Avenue B Grocery (located at 4403 Avenue B in Hyde Park) is Austin's oldest continuously-operated grocery store. If you haven't been, it's worth checking out for its history alone (and the sandwiches…of course). Hours 9-6 Monday through Saturday. Call in orders welcome except at the lunch hour. (512.453.3921)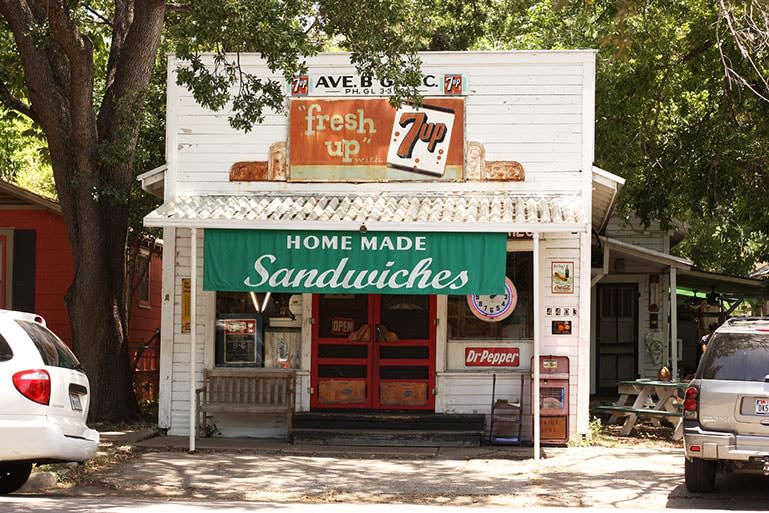 Scholz Garten at 1607 San Jacinto Blvd was founded in 1866 by German immigrant, and Civil War veteran, August Scholz. Not only is it the oldest restaurant in Austin, it's also the oldest operating business in Texas! (So, yes, we care about our history in these parts.) The Garten is open every day of the week starting at 11 AM. Enjoy authentic German fair, burgers, beer (uh – of course), and a rotating menu of nightly "Blue Plate Specials". Note: it is packed for University of Texas football games.
Huts Hamburgers: This Austin classic originally opened their doors (in the same building at 807 West 6th Street) as Sammie's Drive-In in 1939. Famed for their classic burgers, onion rings and milkshakes that satisfy not only your appetite but also, a bit of your soul.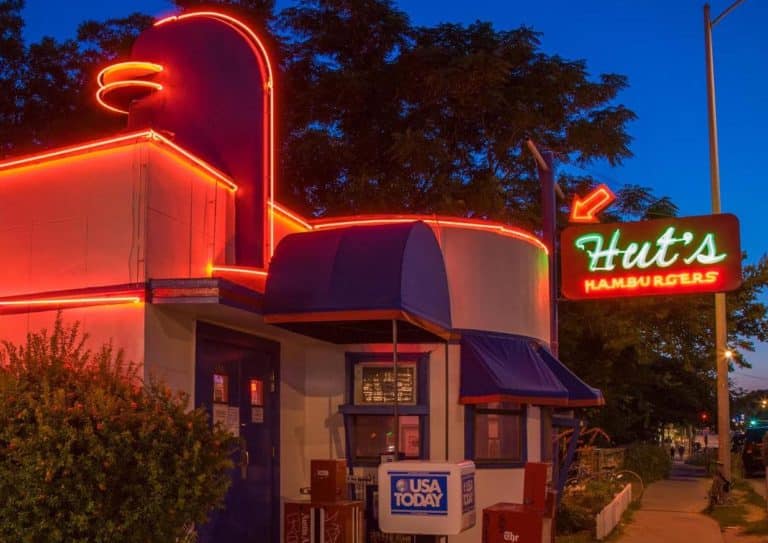 Austin Shoe Hospital: Okay – so it didn't technically start in Austin, but the company has been operating for over 100 years since starting from a horse-drawn carriage in Houston. With 10 locations in the Austin area alone, it has grown into the largest shoe repair company in the world. Is it any wonder? We Texans—by birth or by geographical happenstance—have to take our boots somewhere to get re-soled.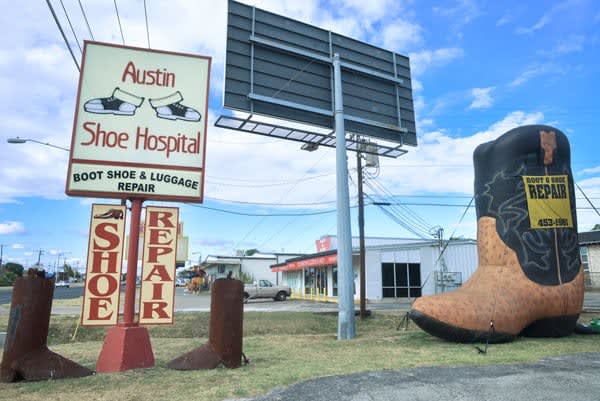 Waterloo Records: As the live music capital of the world, we would be remiss to leave out the oldest record store in Austin, which, from our research, appears that Waterloo Records at 6th and Lamar is the winner. Opened in 1982, Waterloo Records is also known for its live performances and was named one of the world's "Breathtaking Record Stores You Have to Shop at Before You Die" by Buzzfeed.
Antone's Records: We would be remiss not to mention Antone's Records located in West Campus, founded in 1987, and still in its original location at 2928 Guadalupe. Antonie's is known for its vintage vinyl selections.
Jack Brown Cleaners: Unless you're a steam-cleaning enthusiast, you probably haven't thought much about the history of dry cleaning. But locally-owned Jack Brown Cleaners, in business in Austin since 1935, was there at the beginning when "steam laundry" was first introduced at the 1904 World's Fair in St. Louis. True story! From there, Z. Taylor Brown (that's Jack's grandfather) brought the invention to Midland Texas…and the rest is [dry cleaning] history. Try dropping that knowledge the next time you take your shirts in to get pressed.
Hancock Golf Course and Rec Center: Way back in 1899, when Austin's population was less than 20,000, Austin Mayor Lewis Hancock founded the Hancock Golf Course and associated private club (later named the Austin Country Club) after traveling through Scotland. Back in those days, the idea of country clubs and golf were relatively unknown out here in the Wild West. In 1913, the course was expanded to 18 holes through the purchase of the Ernst Farm, which was later sold and developed into the Hancock Center (home today of a highly popular HEB). Fun fact: Texas Rangers removed and sledgehammered illegal slot machines from the Hancock clubhouse in the 1930s. In 1946, Austin Mayor Tom Miller led the fight to purchase the course for the city of Austin. The private Austin Country Club then relocated first to East Riverside Drive then out to Westlake. is located at 811 East 41st and is open year-round for your golfing pleasure. These days, the (previously the country club building) hosts a wide menu of fitness, dance, arts programs, and festivals for Austinites of all ages.
How about you? Do you favor the new or the old? At SEED we have properties for both types! Give us call to chat with some of the most-experienced realtors in the Austin market. You can reach us at 512.368.9990 or anytime on Facebook, Instagram and now Pinterest!