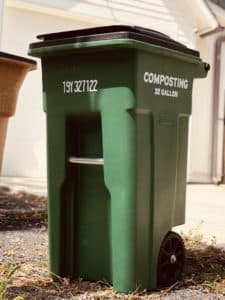 ​​​​​​​
Austin has delivered (pun intended) on its promise of moving toward a by putting its curbside composting program in full swing. But what does that mean for you…and all your friends and neighbors? Are you a bit wary about what happens when a city with a population approaching 1MM leaves its compost on the street for curbside pick-up? Do you too wonder if the raccoons are behind this effort?
As it turns out, according to the city of Austin website, almost half of everything residential customers send to the landfill could have been composted. Compostable material cannot break down in a landfill, as it would in nature or in a compost pile. Instead, it decomposes without oxygen, releasing harmful methane into the atmosphere. Whereas, with curbside composting, organic material placed in the city-furnished green carts is transported to a local facility, where it breaks down into compost, and can be used to help soil retain water and fertilize lawns and gardens without chemicals. To date, the city provides nearly 150,000 households with curbside composting carts and hopes to roll out to all remaining customers in 2020, pending city council funding approval.
What can you compost? Yard trimmings, food-soiled paper (i.e. pizza boxes!), food scraps, eggshells. There is a conveniently-located label on the outside of your new city-provided composting bin with complete list of what you can compost.
If you're all in for composting but could use a push before diving headfirst, we have a few recommendations for highly-rated and—obviously—stylish indoor compost bins to get you started.
2. Another crowd-pleaser in both the looks and function departments is the . Or is it a cookie jar? We'll let you decide.
3. The may look like a miniature version of the home of your favorite Sesame Street character as a kid, but any adult can appreciate the stylish eco-consciousness that this mini-trashcan brings into the house.
4. Is it a breadbox? Maybe…or maybe it's simply the most stylish indoor compost bin we've ever seen. The jaw-dropping costs a pretty penny as far as composting bins are concerned, but that doesn't stop us from being obsessed.
5. If you're the type that likes to keep things out of plain view, this by Simple Human is just the thing.
If you're still scratching your head about this composting thing, there are some great resources and answers to all your burning questions (including your scheduled pickup days) here. At the end of the day, it's a great step forward for our city to keep unnecessary waste out of landfills, and we're proud that Austin has no problem being bold (in addition to being weird).