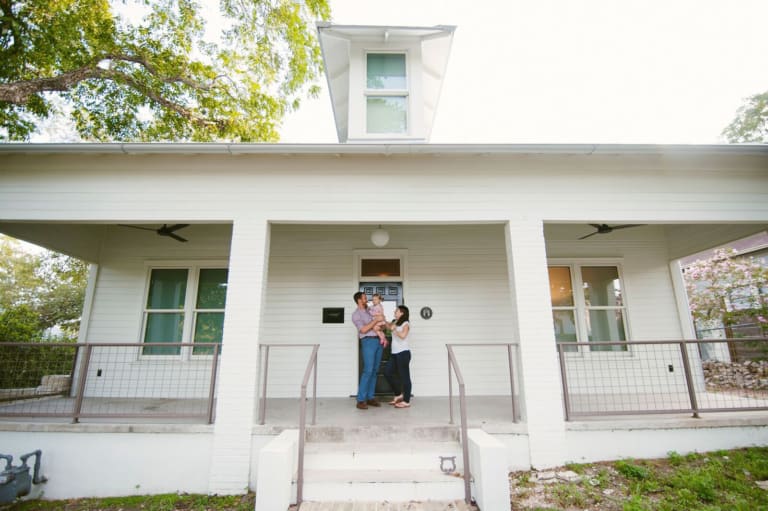 Melissa and Dave Scheinfeld have been a part of the SEED family since they were a young couple dating and renting separate bungalows in Central Austin.
Fast-forward to today when they have a family of their own, two income-producing properties and a breathtaking historic home that they never want to leave.
What started for the Scheinfelds as a simple, albeit nerve-wracking, move from renting to owning has become a solid investment strategy with the bonus dividend of a dream home in one of Austin's most sought-after neighborhoods.
Read on to see how they got it done.
Let's start at the beginning – describe the first house you bought in McKinley Heights (East Austin)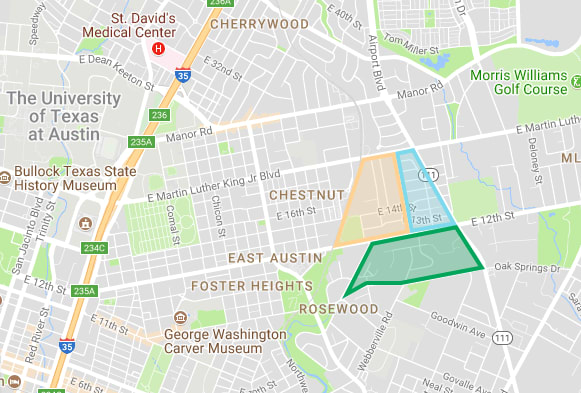 The McKinley Heights neighborhood is located about 2 miles east of the University of Texas between MLK Blvd and 12th Street, just west of Airport Blvd.
It was your typical "starter home" with the charm and fun you generally expect from East Austin. Three beds, two baths, hardwood floors and some key must-haves like an updated kitchen, updated bathrooms… and great light. The outdoor deck sort of sealed the deal. We bought that home in 2009. We now rent out our first home and have never had a shortage of good tenants.
How did you choose the McKinley Heights neighborhood?
At the time, Dave was a student at UT. The commute from campus was an important factor in our decision-making process. (He would ride his bike to/from campus from every house that we considered buying.) We also walked through the neighborhood at different times of the day—and talked to residents. We loved the sense of community that we felt in McKinley Heights—from people hanging out on their front porches to an active neighborhood association.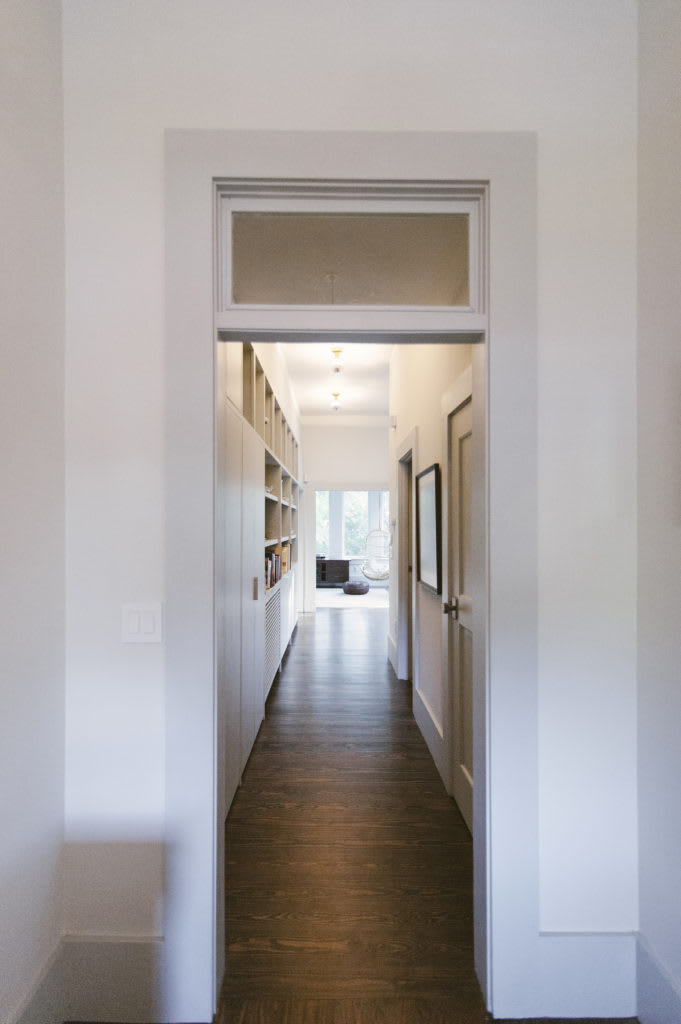 Cool period details (like this transom) combine with modern necessities (built-in bookshelves)…and light…lots of light.
Why did you decide to make the move from renting to owning?
It was a bit unexpected. Melissa's parents had come to visit while she was still renting, and they planted an organic garden. The landlords, in an overzealous attempt to take care of the yard, fed a toxic fertilizer to the garden. That's when she realized it was time to buy. When we finally began taking the steps to homeownership, we were surprised to learn how much more sense it made to invest in property versus renting.
If you knew then what you know now, what would you have done differently as a first-time homebuyer?
Believe it or not—nothing! We were so lucky to find Tammy, and the timing of selecting our neighborhood when we did turned into an unexpectedly smart investment and happy home life. It's funny—Tammy knew from the start that we were making the right decision, but it took us a bit to realize it. It was a big purchase to us at the time.
Now you are living in East Austin's Robertson Hill neighborhood. How do you describe your new neighborhood?
The neighborhood is cool, diverse and eclectic. There are people who have been here their entire lives (by way of property being passed down from generation to generation), and there are young families who just got here. There's also an entire generation of artists and architects who moved here in the 1980s. We love how this East Side neighborhood is growing and changing yet doing so in a cautious, thoughtful way with an engaged group of residents. We love discovering the new "treasures" that pop-up within walking distance—whether it's a new business or simply a neighbor out for a walk whom we haven't met yet.
We like our proximity to Downtown, Central/East Austin and I-35. We love the friendly neighbors and ease of walking to fabulous restaurants and bars. Some of our favorites include Blue Dahlia, Micklethwait, Salt & Time, Licha's Cantina and Bufalina.
Melissa & Dave's home is full of unexpected, well-curated design choices like this wall-papered ceiling.
How did go about finding your new home? How did you know "it was the one"?
We wanted an old house we could make our own. We knew this house was "the one" when saw the size of the lot, the gorgeous trees, the detached guest cottage for visitors and the roof deck. We had dreamed about these things but never thought we would actually find them let alone in this location so close to downtown.
Describe your home today? (post-renovation)
If we can borrow a phrase from Dave's father, it's "like stepping into a warm bath." The house has amazing flow. It was originally built in 1887 and after extensive renovations, we've managed to blend a historic floor plan with modern finishes and practical uses for every inch of space. Another great feature is how the giant trees in the yard are visible from every window; this is the house where we want to grow old.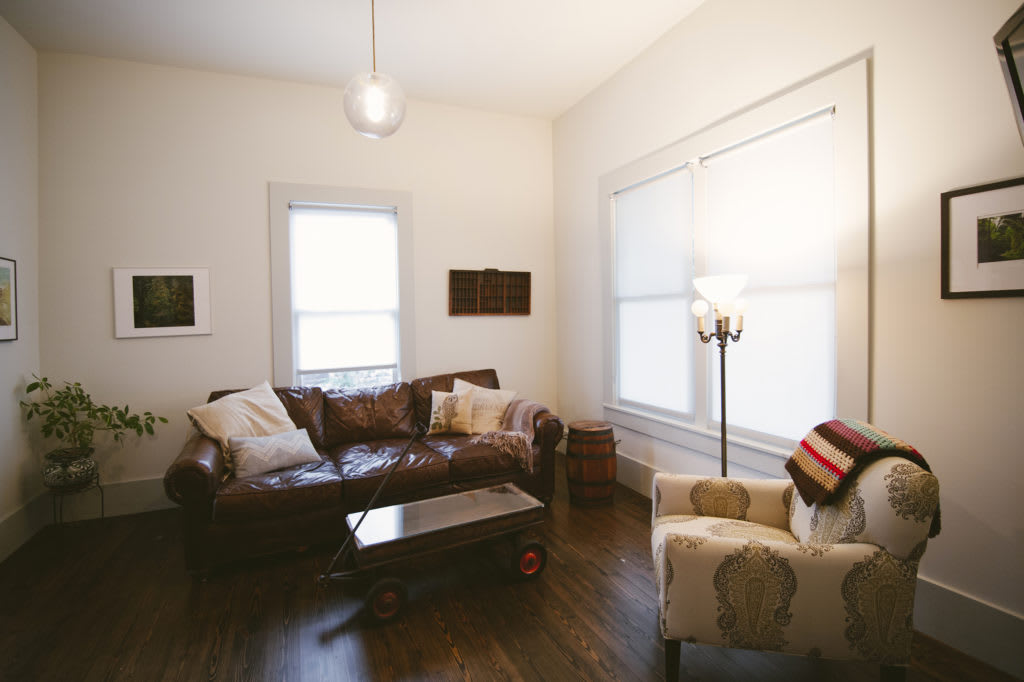 Original long leaf pine floors, high ceilings, loads of light and modern touches like this pendant from Schoolhouse Electric
What's your favorite room in your home?
The sunroom—hands down! We get to enjoy urban wildlife along with trees blowing in the wind and the constant drama of light changing throughout the day.
You kept your first house as an investment property when you found your "dream home"? Why did you decide to do that?
We are grateful we had the opportunity to keep our first house as an investment property. With home values increasing and high-demand rental market, it made financial sense to rent the property for the long-term.
Do you like being a landlord? What are some of the challenges?
As you might guess, being a landlord has its ups and downs. Months will go by without any issues, and it feels simple and easy. But then there are the months when things break, pest issues arise, upkeep is not being done correctly or we have to find another renter, and we have to resolve issues that we hadn't planned for. However, when we take the sum of our experience and the opportunity to diversify our savings, we're pretty happy to be landlords.
What has been your experience with having a vacation rental on your property? Would you recommend short-term renting to friends, and what are some pros/cons you think they should consider?
In our experience short-term rentals work very well if you are in the right location (Central) and have a separate casita or garage apartment. We have benefitted greatly from having a reliable cleaning service that helps with turnover. We have also found that our one bedroom with small kitchen and living area is ideal. Yet we've been surprised to learn there is much less wear-and-tear on a short-term rental compared to having a full-time tenant in the space.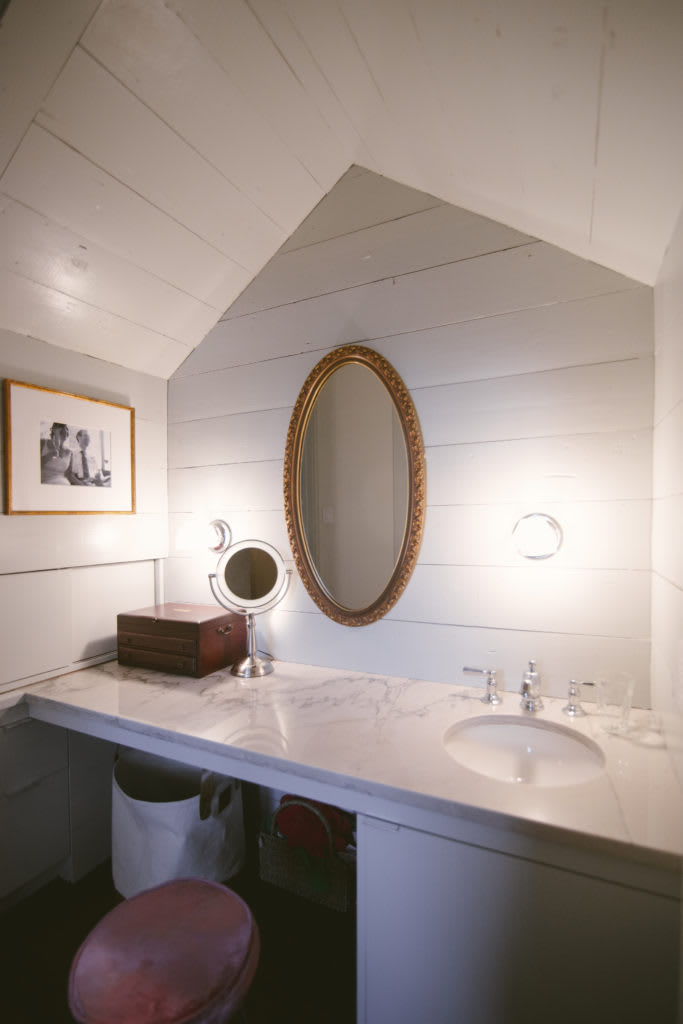 Original shiplap walls frame Melissa's vanity area in the master bath.
A lot of our SEED buyers are looking at older homes that need renovations – can you tell us a bit about the process of renovating your home?
It is exactly that—a process. A process that always takes longer than you think. Our biggest challenge was making difficult decisions to stay within our budget. We put a great deal of time into finding the right architect/interior designer in order to trust that person's expertise rather than engage in constant discussion and debate with one another. We also divided up the roles so one of us would make decisions regarding the functionality of the space while the other would focus on aesthetics. For the majority of the decisions, we deferred to the architect with confirmation from the builder that it was possible, and that dramatically reduced the stress of the process.