It's one of our favorite times of the year in Austin! When the craziness of ACL Fest has subsided but the madness of the holidays isn't in full swing yet. To help get you ready for a season of cheer, we've pulled together some of our favorite fall recipes—from a drink for the kids to an adult version to a yummy no-bake and satisfying dessert. And none of them have pumpkin…because there are other fall flavors.
Butterbeer (for the Youngsters)
When a made-up drink from a children's book series becomes a thing, it might be worth a try. Below are two versions of this tasty treat that Harry Potter fans of all ages will certainly adore.
Here is what you'll need for two servings of this classic Hogsmead drink…
¼ cup sweetened condensed milk
¼ cup butterscotch topping
2 tablespoons whipped butter, room temperature
1 ½ cups vanilla cream soda
and here is how you make it in two easy steps:
Combine condensed milk, butterscotch topping, and butter in a heatproof glass measuring cup. Heat in the microwave for 1 minute. Remove and stir until butter has melted and incorporated into the mixture. Meanwhile, heat cream soda in a different heatproof measuring cup for 1 minute 30 seconds.
Divide butterscotch mixture between two 10- to 12-ounce mugs. Fill mugs with heated cream soda and stir thoroughly. For extra fun, serve garnished with an old-fashioned butterscotch candy stick.
Recipe courtesy of the .
Butterbeer (for the Old-timers)
Why should kids have all the fun? Butterbeer can be just as enjoyable for the boring old folks. Follow the above recipe and, depending on your personal preferences and tolerance for sweets, add rum, whipped cream flavored vodka or our personal favorite—we like how it contrasts with the sweetness of the drink and adds a hearty layer, so to speak—Irish whiskey.
Whipped Chevre, Grape and Fig Baguette with Bacon, Honey, and Thyme
When we found this recipe on Design*Sponge we knew we had stumbled upon the ultimate in autumn-themed sandwiches. We encourage you to whip this one up quick before fall fig season comes to an end! The recipe below makes two large baguette sandwiches, so there will plenty to share (if you feel like it).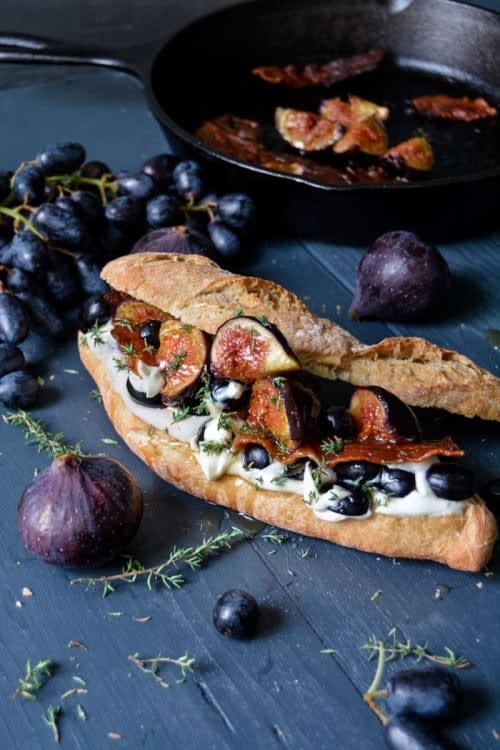 Here is what you need to craft fall's most scrumptious baguette…
For the whipped chevre:
4 ½ ounces mild chevre, mashed with a fork
2 tablespoons heavy cream
1 tablespoon olive oil
1-2 teaspoons fresh thyme leaves, plus 1-2 teaspoons for topping
½-1 teaspoon liquid honey, preferably thyme honey, plus 1-2 teaspoons for topping
salt and pepper
For the sandwich topping:
4 slices bacon
3 ripe figs with soft skin (rinsed, not peeled), quartered
2 crusty baguette buns, cut in half
20 small, dark grapes (seedless), cut in half
and here is how you put it all together:
Whip the chevre, cream and olive oil until creamy and season with thyme, honey, salt and pepper to taste.
Heat a tiny splash of oil in a pan and cook the bacon until golden brown and crisp. Transfer the bacon to a plate, keep the pan on the heat and lay the figs in the hot fat. Roast the fruits for about 1 minute on medium-high heat; turn them after 30 seconds.
Take the pan off the heat and brush the soft sides of the buns with the juices from the pan. Spread the whipped chevre generously on top. Push the grapes into the soft cheese and lay the warm bacon and figs on top.
Sprinkle with fresh thyme and drizzle a little honey over the sandwich before you close it (or enjoy it open).
No-Bake Plum Tart with Mascarpone, Thyme and Gingersnap Crust
This recipe from One Tough Cookie had us at "no-bake," but don't get us wrong—this recipe will still put your baking skills to the test.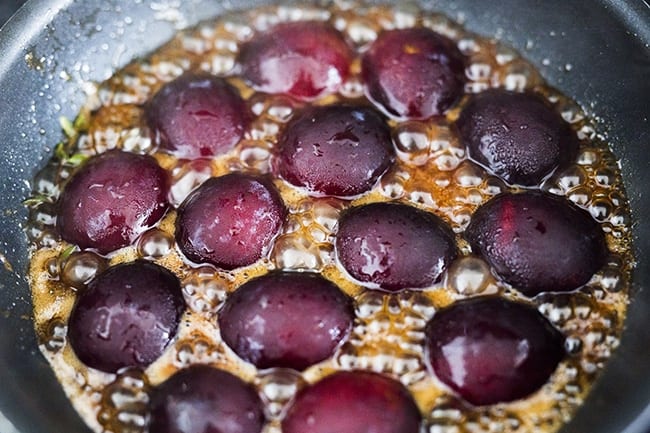 Here is what you'll need to make a tart that looks almost as good as it tastes…
For the crust:
250g gingersnap biscuits
½-cup room temperature butter, cubed
pinch salt
For the plums:
300g small plums (about 7-10)
1 tablespoon butter
2 sprigs of fresh thyme (plus a few extra sprigs for garnishing)
2 tablespoons muscovado (or dark brown) sugar
1 tablespoon water
For the filling:
1 cup mascarpone cheese
2 tablespoons cream
1 tablespoon honey
and here is how you put it all together in four easy (well…maybe) steps:
For the crust:
Pulse the gingersnaps in a food processor until finely ground into crumbs (about 2 ½ cups of crumbs). Add the softened butter and pulse a couple times until the dough begins to come together. If you squeeze a clump in your hand and it sticks together, it is ready. Press into a 13" x 4" tart plate and refrigerate for at least one hour until solid.
For the plums:
While the crust is refrigerating, halve and pit your plums. In a medium pan, melt the butter. Add the thyme sprigs and the muscovado sugar and stir. Throw in a tablespoon of water and stir for a minute until everything comes together and begins to bubble/caramelize. Add the plums and cook them for just a minute or two per side until they've begun to soften. Remove from heat and set aside.
For the filling:
Beat the mascarpone in a bowl until it softens up, then add the cream and honey and beat until incorporated and fluffy.
Assembly:
Just before you're ready to serve, remove the tart crust from the fridge and spread with the mascarpone filling. Top with the plums and their juices, and garnish with thyme sprigs.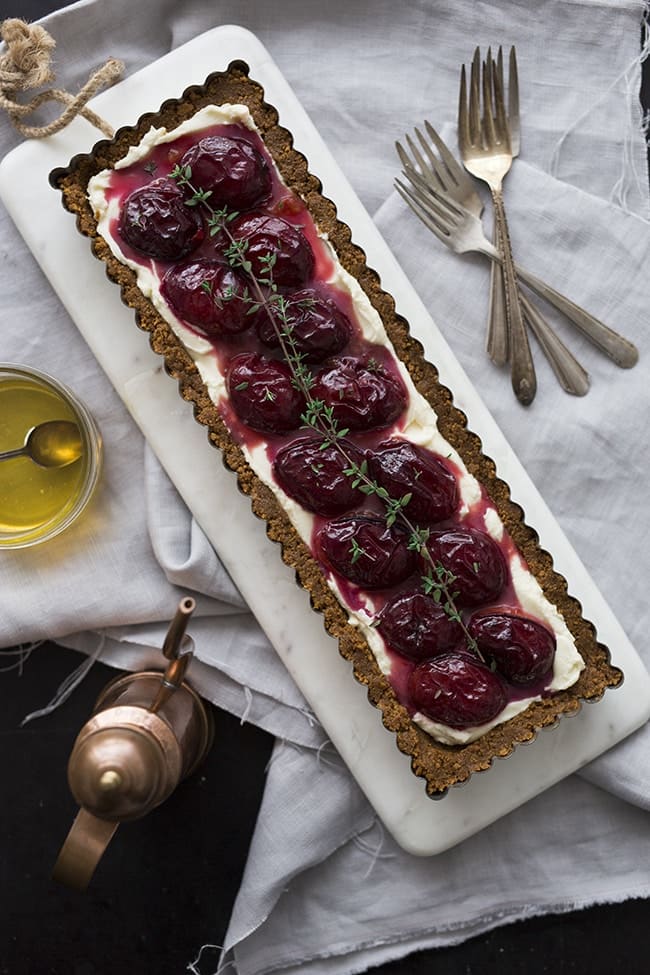 We hope you'll make time to give some of these recipes a try, and if you're looking for a new place to do all your fabulous fall cooking, give us a call at SEED! We're always on top of Austin's real estate news, so we can help you find the right place before it disappears…like these yummy dishes are sure to do!