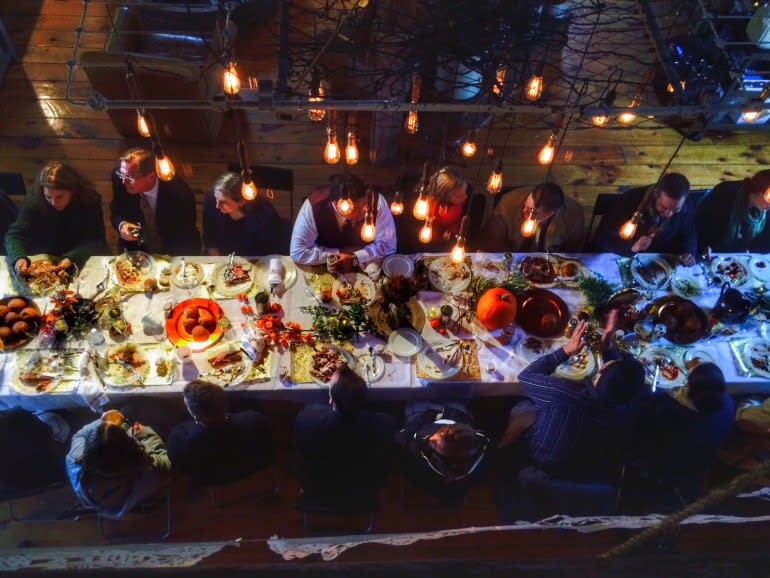 Here's a great tradition to borrow from Millenials: Friendsgiving! It's an idea that started when young professionals were unable to travel home and spend Thanksgiving with their families, but it has garnered major steam the past couple of years and is rapidly becoming an observance of its own. There's even an entry for Friendsgiving in the Urban Dictionary, which defines it as "The celebration of Thanksgiving with your friends."
While a traditional Thanksgiving can be mired in sterling silver flatware and fussy table-scapes, hosting a Friendsgiving gives you the opportunity to go off-script and put your own spin on this time-honored holiday. And it doesn't even have to take place on the fourth Thursday in November—how about Saturday night? If you're ready to give this new custom a chance, here are some tips for hosting your own Friendsgiving:
The host makes the turkey and delegates the rest of the duties to the guests attending. Above all else, this is an old-fashioned potluck with a modern spin. Along with assigning side dishes and salads to your guests, put someone in charge of music…and everyone brings the booze.
When planning your menu, skip the canned cranberry sauce and heavy casseroles. Make sure there are vegetarian and vegan options, and go big on appetizers and desserts for a relaxed, casual vibe.
Think outside of the box (or house, as the case may be) and host your party outdoors. We live in Texas, after all—take advantage of our mild November for a change of pace. Decorate with lanterns and string lights, and forego fancy china for simple enamelware that guests won't accidentally shatter on your patio.
Send invitations (the paper kind that come in the mail) to your guests to set the tone for your Friendsgiving. A proper invitation is more welcoming than a series of emails and texts discussing who's bringing what. Include an insert that tells each guest his/her contribution for the evening ("Play nice: you're in charge of games," for example).
Make time for a cocktail hour—this is where appetizers and conversation rule. It also cuts back on the anxiety of hungry company sitting around the table waiting for the turkey to be carved.
Distract the kids! Assuming there will be children at your celebration, make a space for them to play away from the adults (so the adults can concentrate on other important things, like socializing). If you have room in your backyard it's a great opportunity to let them run wild; or set up a movie and board games in a spare room to keep them occupied.
Most importantly, don't tell your real family if you have more fun than last year's Thanksgiving.
If you're invited to a Friendsgiving, here are a couple tips on being a great guest:
Bring exactly what your host asks you to bring but also a little something extra. This could be a small bouquet of gratitude, gourmet coffee for after dinner or an extra bottle of wine.
Help clean the kitchen…before dessert! It's the mark of a true friend (and also a guaranteed spot at next year's Friendsgiving).