Austin wouldn't be Austin without it's array of locally owned small businesses.
In 2017 Austin officially knocked Denver, Colorado from its #1 spot as "Best City to Live in America," according to U.S. News and World Report. But we already knew that, right? And what is it exactly that makes Austin one of the most desirable cities in which to live? In addition to great weather (let's not count August) and quality of life, we think we found the answer—or at least part of the answer—in these ten small businesses unique to Austin.
1.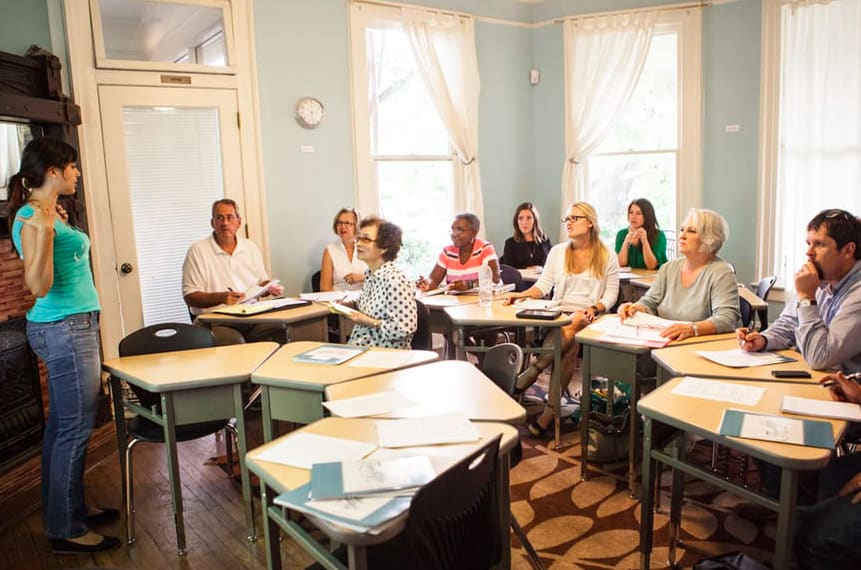 This isn't your average high school Spanish (or French, or Italian…) class. Austin's Freestyle Language center focuses on 21st-century foreign language learning. Lessons are supplemented with social immersion activities—like wine tastings and film screenings—that not only propel you to fluency but are also fun!
2. ​​​​​​​
Slavonk and Hortus Terranium Workshops
An online resource that connects homeowners with local contractors for exterior home improvement jobs, this company wants to help make your home more energy efficient. Whatever sustainable home improvement project you have in mind—HVAC upgrade or solar panel installation, for example—Modernize works to put you in touch with professional, trustworthy contractors for the job.
3.
Terrariums are having their day—kind of like the kale of interior design furnishing accessories. Next time you're feeling in the mood for a little horticulture, check out this spot that offers individual and group terrarium-building workshops. Date night, anyone?

4.

Are you, like, a grocery store…or what? This is the question the folks behind in.gredients are used to hearing. In the company's own words, it has "farmer's market offerings with grocery store hours." in.gredients offers everything from meat to wine to produce yet prides itself on being the opposite of a supermarket. The focus is on zero waste, local food and community, which comes to life through events, fundraisers, classes, live music…and a playground for the kids, of course!
5.
Founded by Austinite Patti Rogers, this private social media site provides a place where "people come together with purpose around a common cause." It's more than just a care calendar—Rallyhood provides tools that help a care circle stay organized, share memories and resources and raise funds.
6.
Fun fact: over half of all Austinites own at least one pet, which makes it the 3rd highest city in terms of pet-ownership in the U.S. If you're reading this and you live in Austin, odds are you own a dog. And if you own a dog, you probably love that dog. The local business Lofty Dog loves them too, and that's why the owners created a place for pets that could only exist in this city. Think of it as a specialty pet supply store with an Austin twist. Here you'll find food, treats, locally made goods and unique toys for dogs (and cats, too!).
7.
Described as "a building experience for modern kids," the brains behind this company saw the need to merge modern technology with old-fashioned fort building. PopUp Play allows kids to break free from the screen after they design their own custom playscape that the company then brings to life. Here's how it works: parents download the app > kids design their own playhouse > their unique creation is delivered to your door.
8.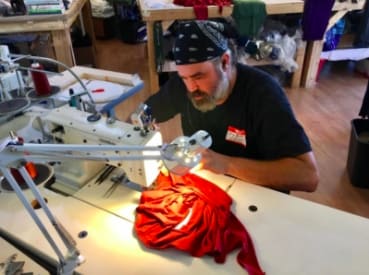 Courtesy: WhiteStar Manufacturing
Made in Texas: WhiteStar Manufacturing is a sewn goods production facility operating in East Austin that produces quality goods in "a clean, calm, and serene working environment." The company accommodates low minimum orders as well as mass production. Named "Best Fashion Production Incubator," WhiteStar Manufacturing is on the forefront of the burgeoning Austin fashion scene.
9.
It's easy to miss this uniquely Austin shop when you're walking down West Mary Street—the building's entire façade is covered in ivy—but once you're inside you'll discover a world of earthly wonders. Dedicated to holistic health, the shop carries herbs in many forms, including teas, incense, essential oils, soaps and even regionally made sunscreens.
10.
Branded as "the world's first cooperatively-owned and worker-managed brewpub," is it any wonder that Black Star Co-op would be established in Austin? With over 3,000 individuals and organizations in its community, Black Star Co-op proudly serves locally sourced and sustainably produced food along with house beers and wine seven days a week.