We all have one—that friend with an enviable tee shirt collection that's like a well-curated, super-chic time capsule. Covering everything from old concert tees to obscure movie references, your friend's t-shirt reservoir is part vintage, part travel diary. This is the person who can intuitively sort the nerdy-cool from the just plain nerdy, or perhaps your friend just knows where to shop.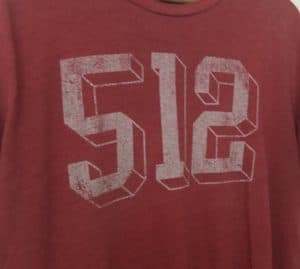 ​​​​​​​
In a town like Austin, where t-shirts embody everything from casual office vibes to trendy festival-wear, the offerings can be overwhelming. So what's the perfect recipe for a stellar tee shirt collection? Make sure you have something rock n' roll, something public radio, a nerdy pun or two, a bit of activism, a little vintage and a whole lot of Texas pride (oh, and Willie—there has to be Willie!). We've rounded up the shops in Austin that can deliver when you're ready to take your t-shirt stock to the next level…just save the "Keep Austin Weird" tees for the tourists.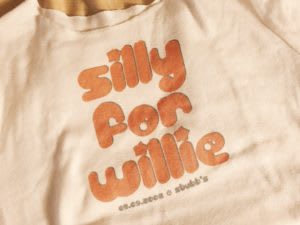 ​​​​​​​
If you thought the "Taco Cat" shirt was clever, you'll die over "Oh My Gato" found at the locally-owned on South Congress—a boutique dedicated to celebrating individual style for both men and women. While you're in the hood, stop in next door at the new location for , an Austin staple since 2004. Inside this store where it's "all Texas all the time," you'll find one of the coolest, most creative selection of t-shirts this city has to offer. And, for the guys, don't forget to check out , where you'll find one of our favorite tees—a blueprint diagram of an Eames chair, designed exclusively for Stag by Alchemy Design.
To up your vintage ante, Austin has plenty of options to keep your wardrobe on point. For ladies, there's the always-stylish . A vintage tee here will usually come with a hefty price tag, but shopping at Feathers feels like browsing through the closet of your coolest friend. Everything is hand-selected and has a personal, sophisticated touch.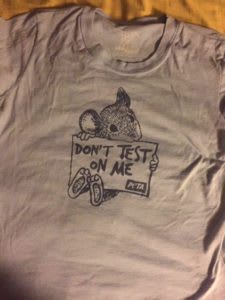 ​​​​​​​
Up on North Loop you'll find funky-fresh , which has quirky vintage tees for both men and women. If you have time to sort through the cramped racks, you just might come home with a scorpion-logoed, technicolored tee with west Texas origins.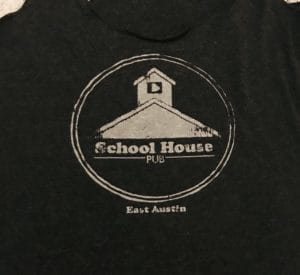 ​​​​​​​
One last stop on the North side is , where the selection of clever, Austin-inspired tees is both quirky and chic. Here you will find fashionably gritty shirts from that spell it out when you're having a "Champagne and Queso" kind of day. Credit to several members of the SEED team (, , , and ) for providing pics from their personal t-shirt collections for this blog and – oh yes – we have more than one of those types here at SEED – the ones with the t-shirt collection that we all covet.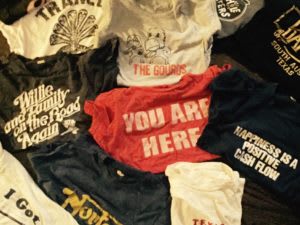 Just a small sample of Annette Patterson's envious collection.