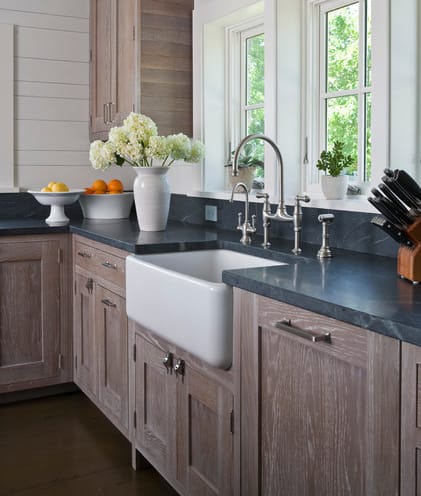 Ready to add some tactile dimension to your interior space?
Modern sophistication YES, but dull and lifeless…NO THANK YOU.
Along with the sleek simplicity of modernity and home technology is a growing desire for counter-balanced by something that presents a tangible elegance. The answer? Bringing texture back and combining with other textures. Texture on texture. Yes – it's OKAY… and here's how it's done.
Starting from the ground up, interior floors are looking to the past for inspiration. The age-old finish ceruse, dating back to France about 500 years ago, has seen resurgence in recent years. Through a technique that creates graying effects on wood with a special wax finish that fills in its grooves, cerused wood (also called "limed wood") provides depth and texture for a look that's worn yet polished. The finish blends seamlessly with today's popular muted color palettes where gray is the reigning neutral du jour. Traditionally oak is the wood best suited for a cerused finish, but companies have started introducing manufactured gray floors to capitalize on this design trend. In addition to floors, look for cerused wood on everything from kitchen cabinets to accent ceilings.
Moving from the floor to the walls, texture takes hold in the form of bold patterns and innovative finishes. If you haven't yet embarked on the wallpaper craze, this might be the time to get on board. There's no sign of the trend slowing down, and two popular wallpaper designs for the coming year are flowers and butterflies.
If you prefer flora: you may recognize the designs of artist . Her work is the subject of countless Instagram feeds where her over-scaled floral patterns are stunning works of art.
If you're more into fauna: Fashion designer Matthew Williamson brings a new look to the traditional butterfly motif with his Narissa wallpaper for Osborne & Little.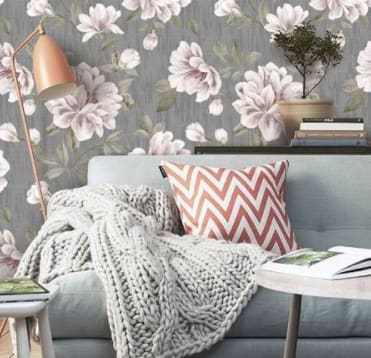 Ready for something innovative but still can't commit to the wallpaper trend? Benjamin Moore just introduced Century—a transformative paint that comes in 75 pre-mixed colors. Only available in select markets at this time, Century is produced in small batches through "a precise science that adds new dimensions to walls, similar to a soft leather glove," states the company.
Once the walls are covered, look up to the ceilings, which no longer play second fiddle when it comes to design. If you want something shiplapped, cerused or beamed, ceilings are playing the texture game in a big way (caution: as long as the "texture" you're going for isn't a popcorn ceiling texture).
Once the basics are in place, put the finishing touch on your space with textured furniture and accessories. Velvet was groovy in the 1970s, and it's showing up again as the new "it" fabric for sofas and pillows. Look for deep, saturated jewel tones to contrast with softer color palettes. Other ways to add some tactile dimension to a room is with nubby wool throws and pillows in different fabrics and textures—from wool to leather to silks—that you can mix and match to your heart's content.