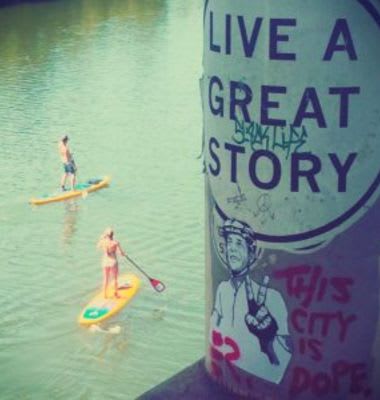 If you ask a native New Yorker (City, we're talking) if they have ever been to the Statue of Liberty, odds are you'll hear a resounding "No." Similarly, Austin has its own spots where "true locals" never go. If you're new to this ever-expanding city, here are some things the locals don't want you to discover (and whatever you do, don't tell them we told you):
What's that line creeping down East 11th Street at 7am on a weekday? If you've been in the great state of Texas for any amount of time, then you know we're serious about barbecue. But it doesn't stop there—we're contentious about who has the best, and entire families have been ripped apart over a simple matter like smoked meat. Do yourself a favor and stay out of the fray. Instead of lining up for a plate of meat first thing in the morning (at the notorious ), save your appetite for a more respectable hour. Swing by an unassuming strip mall over on East 7th where you'll find Salt and Time: a butcher-shop-turned-restaurant that serves up some of the best cuts of meat in town. Don't let the view from the parking lot fool you, inside you'll find rustic-chic décor topped only by the meat-centric farm-to-table fare served Tuesday – Sunday.
Another thing Austinites like to argue about is tacos. Before you can say migas three times fast, another taco truck has popped up around the corner. Steer clear of the debate and try Veracruz, where they serve breakfast tacos all day or Tyson's Tacos on Airport Blvd, where you can get a for $9.
Like any decent college town, Austin has its share of atmospheric and cozy coffee shops. You may be tempted to swing by on South Congress for the quintessential cup of SoCo coffee, but beware. Tourists have become so enamored of the "i love you so much" graffiti on the side of the building that you have to bob and weave through photo ops just to line up for you caffeine fix. Instead, have your GPS reroute you to East Cesar Chavez where you'll find the charming and an authentic coffee shop experience.
When it comes to nightlife, Austin has a range of options from bars to old-fashioned honky tonks to trendy spots where artisan drinks abound. 6th Street had its day (about 20 years ago) and a trip down can leave you feeling like you've stumbled upon a secret hipster convention. For a spot where everyone is welcome, where you'll find an eclectic crew any night of the week, check out .
If you prefer to take your libations by day, then is the place to be. Head east on 6th until it ends, and there you will find . Austinites pride themselves on all things local, and that includes our beverages. The Hops & Grain taproom is open seven days a week from 10am – 10pm, and, because this is Austin, there's a food truck on-site Thursday-Sunday.
Perhaps it has something to do with temperatures hovering around 100 degrees for three months out of the year, but this city is known for its swimming holes. You've almost certainly had a local ask if you've been to yet, but has anyone mentioned Hamilton Pool Preserve? How about Krause Springs? , located in , describes itself as "232 acres of protected natural habitat featuring a jade green pool into which a 50-foot waterfall flows." Sound like your idea of a day in paradise? No wonder Austinites try to keep it on the downlow. , located about 30 miles west of Austin in , offers year-round camping and swimming and plenty of natural sites to explore on its 115-acre property listed on the .
Locals will tell you to be sure to take in a view of the Colorado River from Mount Bonnell. While the sight is stunning, the mediocre hike up the short, dusty trail leaves an avid (or even recreational) outdoors-person feeling slighted. To get your heart rate up, head over to , where there's almost three miles of hiking trails wound through 227 acres of woodlands. The park is open from sunrise to sunset and hosts events throughout the year. Before you bring the entire family on a picnic, however, note that pets and picnics are prohibited at Wild Basin.