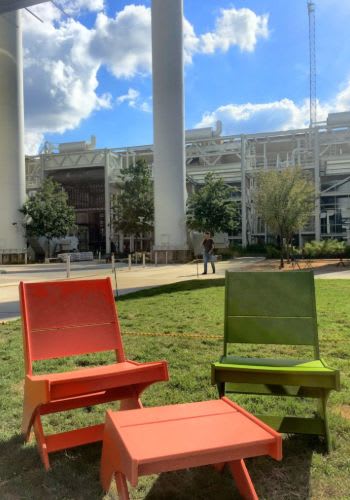 Take a visit with SEED Property Group to the Seaholm Power Plant Redevelopment.
We LOVE it when architects, developers and the City are able to resuscitate a historic treasure with care and give it new life. That's the story down at Seaholm, the former City of Austin power plant that is now a friendly little enclave of high-rise residences, restaurants and businesses on the shores of Ladybird Lake.
We know, the idea of venturing out to Ladybird Lake for a drink, a breezy lunch date, or a Trader Joe's shopping trip at first may seem daunting. Once you get through the traffic, what about the parking and crowds of people? Well, we are happy to report that a casual stop by at Seaholm is actually a piece of cake. The parking garage makes it easy to zip in and out and, because so many of the folks there live or work within easy walking distance, there is not a lot of car traffic to slow you down.
And the reasons to explore Seaholm are many—the viewing deck from the third floor of Boiler 9 Bar + Grill for one. With two vintage viewing telescopes and sight lines across the lake, this is a festive place to sip a libation from their very impressive bar, particularly during sunset. And do you know what could be perhaps more impressive? Taking up the challenge suggested to us by the hostess at the door—start at the funky bar in the basement and then drink your way up—each floor of this sleek restaurant has its own food and drink menu, so you can have three different experiences without leaving the building.
And for those visits in which you are not as cocktail-inclined, you can drench your system with healthier liquids at True Food Kitchen, the wholesome eating nirvana. A smart airy space where yummy quinoa bowls, curries, and kale salads abound, this a coveted lunch spot, particularly if you need a boost of really good healthy chow. And don't worry about being too virtuous, they have an impressive beer and wine list here, too.