You don't have to live in a high rise downtown or on top of Mt. Bonnell for a spectacular view of Austin. Whether you prefer to be dazzled by city lights or comforted by the serenity of flowing water, Austin has a variety of neighborhoods that offer idyllic scenes.
The Hills Are Alive:
Generally any neighborhood with the word "Hills" attached to it is going to have a decent view (case in point: Westlake Hills). But outside of the obvious, here are some "Hill" neighborhoods—along with a couple Ranches and a Stone—that offer nice views of the Hill Country:
Great Hills: In this Northwest Austin neighborhood, zip code 78759, there are family-friendly homes with Hill Country views with occasional deals available for under $600,000, as well as luxury homes at higher prices.
Cardinal Hills: Situated Northeast of Lakeway in zip code 78734, new construction homes in this community, part of Lake Travis ISD, offer Hill Country views—some with pools—in the $400,000 and up range.
Steiner Ranch: In this West Austin resort-like community, homes with Hill Country views are listed anywhere from $300,000 and up (zip code 78732). While Steiner Ranch also has the option of some spectacular luxury homes with killer views, there are also more modest price single family homes priced under $500,000 also with views.
Gaines Ranch: You'll find this small luxury community tucked away in a secluded enclave near Travis Country in Southwest Austin (zip 78735). Just six miles from downtown, this little-known neighborhood of homes on acre+ lots offers both city and Hill Country views with prices in the $1M – $2M range.
Ledge Stone: This gated community in Southwest Austin zip 78737 offers newly built and under-construction homes with Hill Country views, some available under $400,000.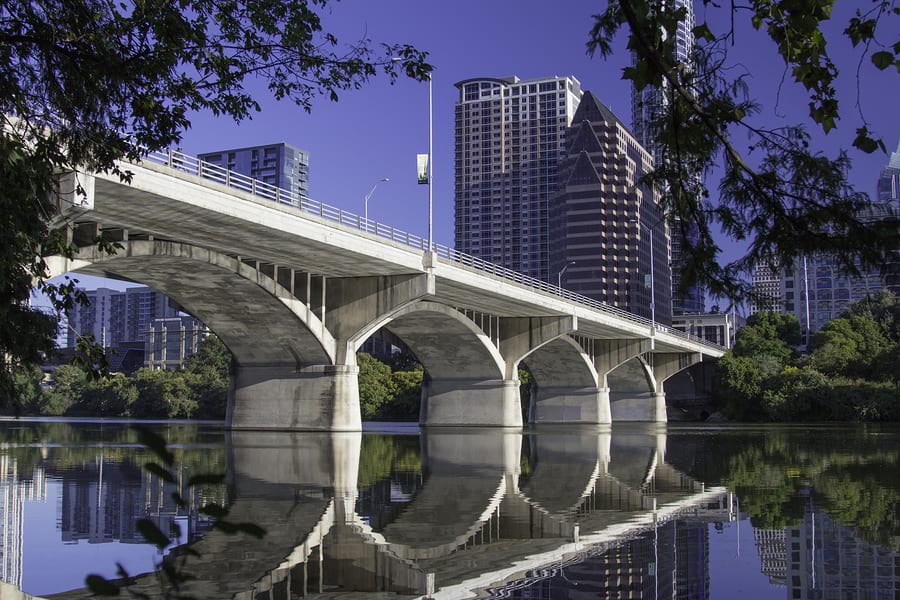 We Built This City:
The times, they are a changin' and so is Austin's skyline. If you want to be at the forefront of Austin's ever-expanding skyline, get a front-row seat in one of these neighborhoods:
Central East Austin: In zip code 78702, you can find downtown views (albeit sometimes seasonal!) from either 2nd story windows or choice streets like Crest Avenue. Ever growing and changing, the prices in this area range from $300,00 to $1,000,000.
Travis Heights: located across the lake from downtown Austin, this neighborhood in the 78704 offers a quieter (yet close-up) view of the Austin skyline. As one of the city's most sought-after neighborhoods, home prices start around $400,000 and up for an enviable city outlook.
Up on [Bull/Walnut/Waller] Creek: In a city routinely plagued by drought, having a "creek" view in Austin can be as rewarding as lake view. Here are some places where you can watch a river—or creek, as the case may be—run through it:
With a name like River Oak Lake Estates, you can bet there's a view to be had. In this North Central Austin (78758) neighborhood, close to northern Tech companies, homes built in the 70s and 80s offer views of Walnut Creek starting at $400,000.
Cat Mountain is a great community nestled off 2222 in Northwest Austin that offers all the views and scenery you could want, with a little more privacy. Followed by substantial development in the early 2000s, this area in the Northwest Austin zip code of 78759 not only offers homes with creek views but also boasts Hill Country and canyon views in the $500,000 – $1,000,000+ range.
If you're looking for a room with a view, Austin has it!