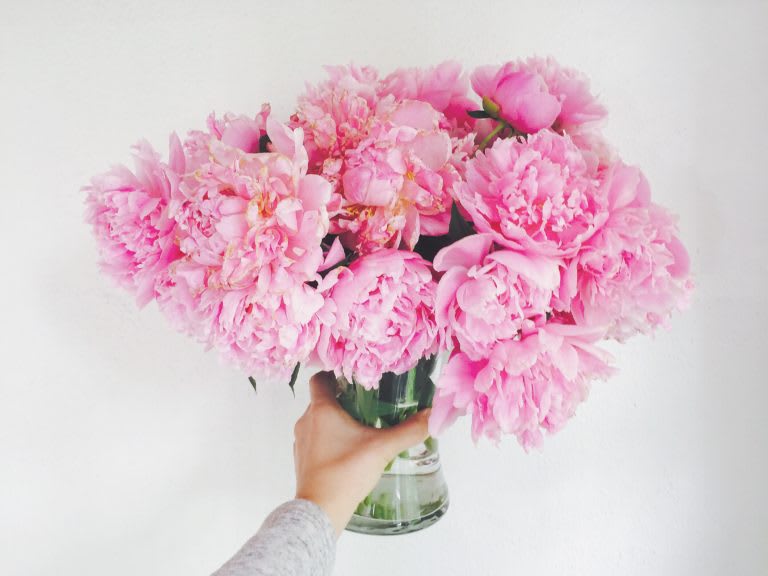 We've talked about photo shoot-worthy plants, but what's the secret to arranging flowers like a pro? While it may seem like a daunting task, it turns out that statement-worthy floral arrangements don't have to be intimidating if you follow these simple rules (disclaimer: we use the term "rules" pretty loosely here) to brighten up your home for the season.
Rules for arranging:
1. One flower variety per vase. The experts make it look easy, but actually putting together a beautiful, symmetrical—or asymmetrical, if you please—arrangement is quite difficult. How much greenery do you need? Do ranunculus work with tulips? It takes a true artist's eye to make it all work, so a simple floral scheme is best for the amateurs. Note: if one flower variety per vase seems too rigid, select a variety of flowers but keep it monochromatic.
2. Pay attention to scale. Have you ever seen tiny flowers in a giant vase or vice versa? Scale is just as important in flower arranging as the flowers themselves. Make sure you don't have tall, flowing blossoms in a short, squatty vase. Shorter vases are great for bunches of hydrangeas while a taller vase suits sunflowers, for example.
3. Fill the entire vase. Except in the case of palm fronds, which stand nicely on their own, it's best to fill the entire vase with flowers for a full, robust look.
Rules for keeping flowers fresh as long as possible*
1. Trim the stems as soon as you get home; snip them off at a 45-degree angle.
2. Put the arrangement in room temperature water (not hot; not cold).
3. Change the water every day. Remember, the flowers are technically already "dead" by the time they make it to your house. But we've heard that the secret to fresh flowers at fancy hotel chains like the Four Seasons is to snip off a tiny bit of the ends and change the water daily. *You might want to follow these "rules" a little more closely than the others.
Austin's Best Bets:
Now that you know how to arrange them, and keep them at their best, where in Austin do you find the best flowers?
– is our go-to for affordable, fresh flowers. Keep your eye out for peonies season in late spring. TJ's (as we like to call it) has hands-down the best deal in town on these little beauties.
– . offers both wholesale and retail. It's a great resource for cash-and-carry flowers in a ton of varieties for the common, non-florist folk.
– is the place for larger-scale purchases (like you need to outfit the entire house for a dinner party). This is not a walk-in shop, so be sure to do your research an ordering online ahead of time.
Once you have all your beautiful new flowers arranged, your house will be one step closer to staging. If you're ready to sell, reach out to us at SEED. We are experts in the Austin market and ready to help!