Hosting Made Easy: Friendsgiving Party Guide
Here at SEED, we love to dabble in the nontraditional—holidays included. When the concept of Friendsgiving came about a few years ago it was considered an informal alternative to a traditional Thanksgiving get together. Now, it's evolved and been adopted by people across the country as a way to celebrate their own chosen friend-families or to just get together when family is miles away. Throwing a Friendsgiving party isn't quite the same as hosting Thanksgiving at your home- there's a lot less pressure and a lot more focus on having fun together. It's a totally customizable occasion that's relaxed (something you may not currently associate your turkey day with). But if you want our advice, we've got a Friendsgiving party guide to get you started.
Step 1: Choose a Date
Unlike the longstanding holiday, there's no set date for Friendsgiving. It seems a lot of people choose to have their Friendsgiving party the Wednesday before Thanksgiving, but anytime in the last few weeks of November is the general timeframe. It's all about getting everyone together, whenever work/social/life schedules allow it. Sometimes that's just not Thanksgiving day.
Since many people have the holiday off, they also take off the Friday after Thanksgiving. That's a great time to plan a Friendsgiving party if you want to invite football-loving friends who dedicate Saturday and Sunday to watching games. Or if your group of friends all root for the same team you can purposely choose the Saturday or Sunday before or after Thanksgiving to turn it into a tailgating Friendsgiving- it really can be whatever you want.
But of course, you'll want to have a firm date set at least a week in advance, since the heart of a good Friendsgiving is usually a potluck.
Step 2: Whip Up a Menu
Hosting the perfect Friendsgiving party starts with nailing the menu. It is the Thanksgiving season after all.
The most common tradition is to go with a potluck style dinner for Friendsgiving. It will take a little bit more planning upfront to figure out who's bringing what, but a potluck ensures no one is stuck in the kitchen all day and you'll get a great mix of lovingly made foods to try. The whole point of Friendsgiving is to relax with friends, which is hard to do if you're chained to the stove cooking a multi-course meal. As far as what everyone will bring, decide if you want to go with traditional Thanksgiving foods or do something completely different. You could decide to do a luau dinner complete with a roast pig instead of the regular glazed ham. Or you could make it a local fare menu to celebrate the cuisine that's unique to your area. We find the best way to do it is assign roles:
1-2 people bring appetizers/finger foods
3-4 people make sides
1-2 people make a "main" dish
1-2 people cover dessert
Of course, it will depend on your group size, but one safe way is to put all of them in a hat and draw a course! It's also never a bad idea to announce what you're bringing once assigned, just in case you want to make sure you don't end up with 4 potato dishes and no veggies for sides for example.
Really, the only rule is that the food is something you and your friends enjoy. Check out this article from Real Simple for a few more .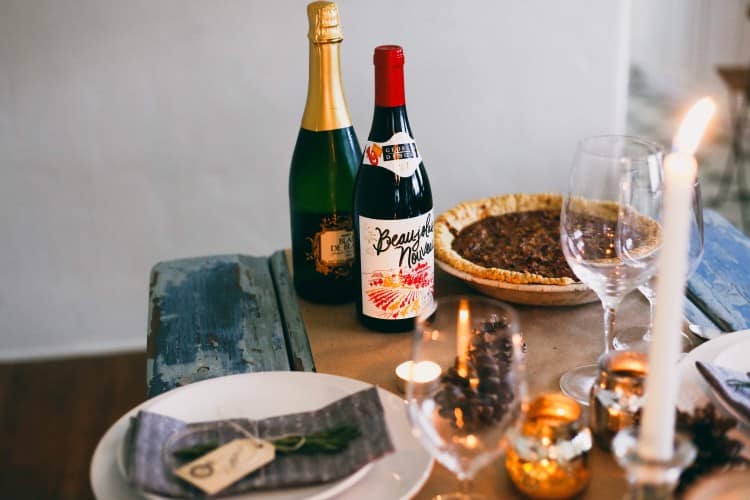 Festive Drinks
Friendsgiving tends to be a little bit more of a party than traditional Thanksgiving – so there's no judgment if you want to enjoy a few adult beverages. BYOB is a good idea, but as the host it can be fun to come up with a special signature drink for your guests. If you avoided putting pumpkin on the table until now, you can put it in glasses instead. All you need is cream soda, vodka and pumpkin ice cream to make a crowd-pleaser like pumpkin pie punch. You can go the extra mile and put the concoction in a carved out pumpkin for a little extra natural flavor. Cranberry is another fall flavor that's extremely versatile. If you don't want to spend too much time on it, a mulled wine or wassail always works with just a few basic ingredients and a bag of mulling spices.
Of course, it's also important to have non-alcoholic options for the designated drivers and friends that don't indulge in libations. You can still keep to seasonal drinks like apple cider, hot chocolate and eggnog.
A Friendly Fall Ambiance
No one is going to expect the host(ess) to deck the halls for a Friendsgiving dinner, but a little bit of fall ambiance never hurt anyone. And it doesn't have to be expensive. Mother Nature has provided decor right outside your door- depending on your yard, if you have deciduous trees like maples or red oaks you fill glass vases with colorful leaves and place them around the house. If you have a few unused picture frames the leaves can be pressed and hung as well. If you live somewhere like Bastrop, don't underestimate a good pine needle wreath or pine cone decor. Plus- you can always just drop by the dollar store for some glittery fake foliage last minute, too.
And don't underestimate the power of a simple table cloth and runner. It will instantly dress up the dining room and become a focal point before sitting down for dinner.
In honor of Friendsgiving, we'd like to thank all of our wonderful partners that have helped SEED real estate group have one of the best years ever. We appreciate you!