It's summer! And in Austin that means it's the high season of the Topo Chico, the sparkling mineral water from Monterey, Mexico that we just can't seem to get enough of. We love it so much, we call it 'Topo' for short and have it shipped to our houses by the caseload. We saw off the tops and make drinking glasses out of the bottles. Even the "Topo burp" that often follows chugging a bottle of Topo Chico is considered by some to be a point of pride.
First distributed in the early 1900s, Topo Chicos have been quenching thirst in Northern Mexico and Central Texas for decades. A Topo all by itself helps us get through those hot summer afternoons. But it doesn't have to be a lonely beverage– Topo plays very well with others: tequila, gin, vodka, and now even espresso have become popular playmates of this fizzy refreshment.
Rachel Lomas, Austin's much-loved chef and food caterer, has concocted a Pomegranate Topo Chico margarita, a crowd pleasing party drink heavy on the fruits but not too sweet. The pomegranate gives it just the right kick of tart. We have adapted her recipe below, so you can make your own.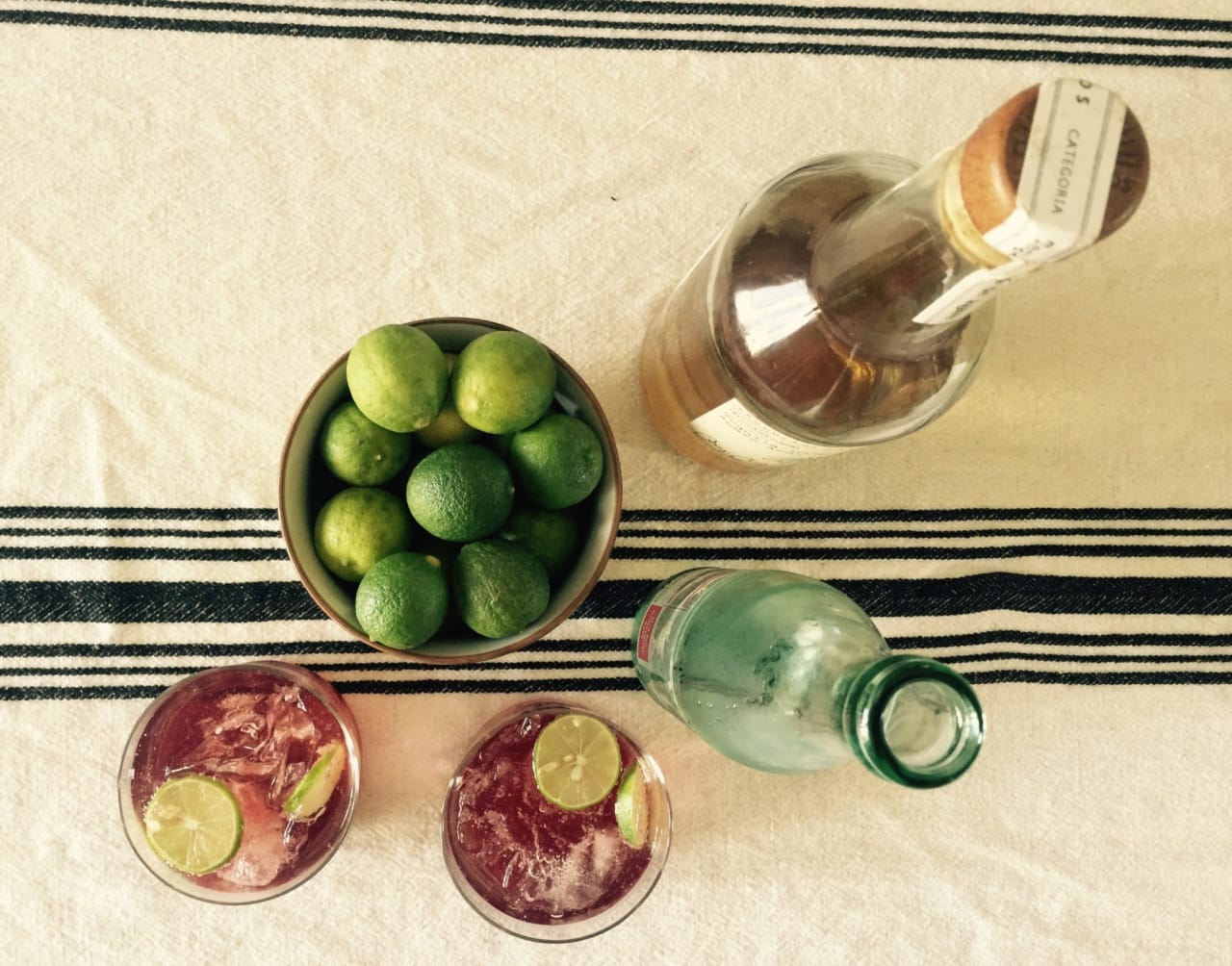 ~Ingredients~
Fresh squeezed lime juice
Fresh squeezed orange juice
Pomegranate juice (get the Pom brand)
Mango juice (get Naked brand Mighty Mango)
White tequila (el Jimador works well)
Topo chico
Freshly grated ginger
In a large cocktail shaker, mix equal parts of all of the juices, followed by two parts of tequila. If you want to make two cocktails, use a 2 ounce shot glass to measure each of the juices and then 4 ounces of tequila. Pour over an ice-filled glass. Then top off with COLD Topo Chico and the freshly grated ginger. Voila- refreshment in a glass. If you like it tarter, add an extra splash of the Pom juice, too.
For more fun recipes, try the Topo Chico website:
Tip: If you find your Topo Chico gets warm before you finish the whole bottle, try the mini Topos available at Fiesta Market on the corner of I-35 and 38th Street. These diminutive Topos also are great for parties.