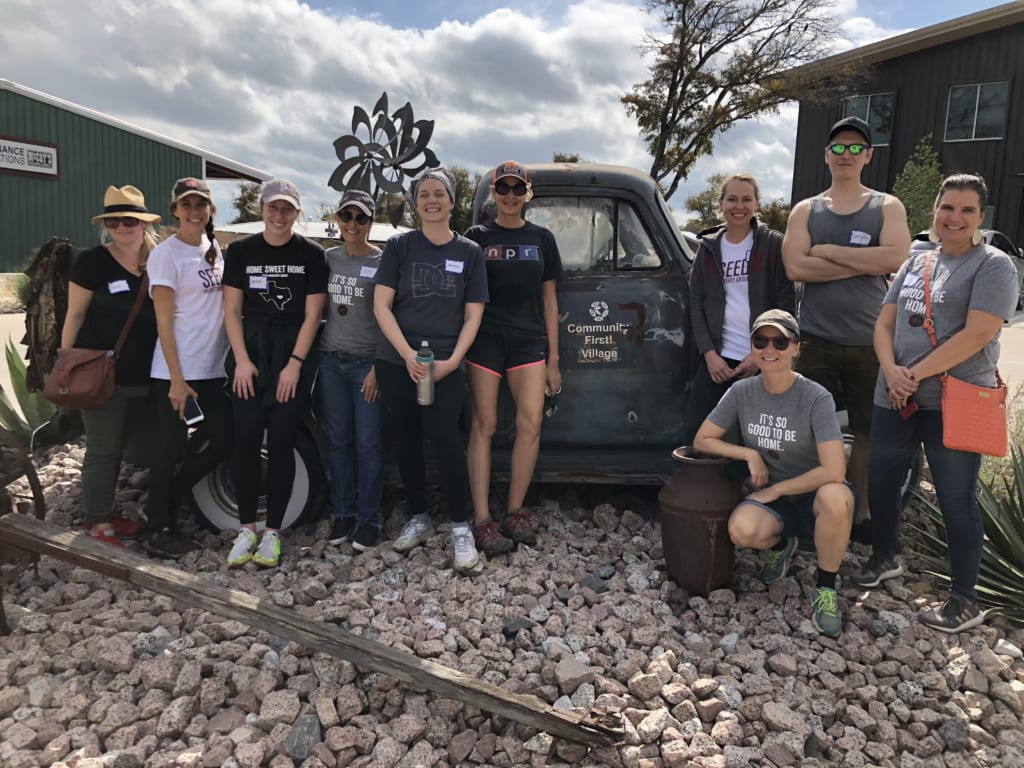 Volunteerism is a powerful thing. Not only does it make a positive difference in other people's lives, it also has a positive impact on the lives of people who volunteer.
Volunteering makes you feel more connected to your community. It's a way to make new friends and contacts that help to bolster social skills. Taking time to volunteer has even been proven to improve a person's health. It can reduce anxiety, stress and depression while simultaneously keeping the physical symptoms like high blood pressure in check. Volunteering actually increases feel-good hormones, making us feel profoundly more happy.
If you own a business there are . Giving employees the opportunity to volunteer and encouraging them to do so has been shown to:
Increase employee engagement
Aid in team building
Help businesses recruit top talent
Improve employee retention
Build and reinforce skillsets
At the end of the day, volunteering is good for your company culture, brand and profitability. Plus, you'll feel extra good knowing that your business is making a difference beyond making a profit from products and services.
In 2020, SEED Property Group plans to keep giving back to the community that gives us so much, and we hope you will too. The Austin organizations below are worthy causes that can use your help in 2020.
The goal of Foundation Communities is to provide Austin families with affordable housing. However, Foundation Communities goes one step further with green building initiatives that make the rental properties more energy-efficient, which lowers the cost of living for residents while increasing quality of life.
Around 2,500 people a year volunteer their time to make Foundation Communities' success possible. You can help physically build the community, participate in resident education programs or even assist families with financial planning. There's a volunteer opportunity for every skillset.
During the holidays you can sponsor a family or donate items that are on the organization's holiday wish list.
Kids are the future of our communities and MOVE Texas wants to get them engaged as early as possible. It's a non-partisan group that's helping teach underrepresented children and teens about civics, advocacy and the importance of being a leader in your community. These lessons can profoundly shape the lives of the young people who are involved in the organization, and in turn, the lives of people around them.
Business leaders can play a major role in helping inspire and mentor our next generation of voters. There are also volunteer events that parents and kids can do together.
Community First! Village is one of the most unique communities in the country. It's a master-planned community with affordable homes specifically for people who are overcoming chronic homelessness. It's an initiative of Mobile Loaves & Fishes that is providing permanent housing for 200 men and women in the first phase alone.
The community is a collection of different types of homes as well as facilities for the residents. Like others in affluent master-planned communities, residents enjoy neighborhood walking trails, outdoor kitchens, a cinema and market.
There are ample opportunities to volunteer with Community First! In fact, they have a master calendar full of events. The SEED team has helped Community First! in the past, and we can't wait for the next volunteer opportunity.
Big Brothers Big Sisters has long been a worthy cause that's changing lives for the better. Unfortunately, there are many kids who are underserved and have limited opportunities. BBBS is out to change that by pairing kids with supportive adults that help them achieve their full potential.
BBBS is always looking to make mentor matches for the kids they serve. They also have programs for helping teens transition into adulthood, provide help with secondary education and have an array of specialty services.
Austin is known for being a major city with a lot of green space for people to enjoy. But that doesn't happen by accident. Organizations like the Austin Parks Foundation work hard to preserve parkland and expand it. Getting out in nature has significant mental and physical health benefits for city dwellers. Helping the Austin Parks Foundation means you'll be improving safety and access for more people.
The Austin Parks Foundation holds regular volunteer events at dozens of parks across the metro. There are also city-wide events two times a year. The organization encourages individuals, groups and businesses to sign up.
Find your cause in 2020 to make Austin an even more amazing city.