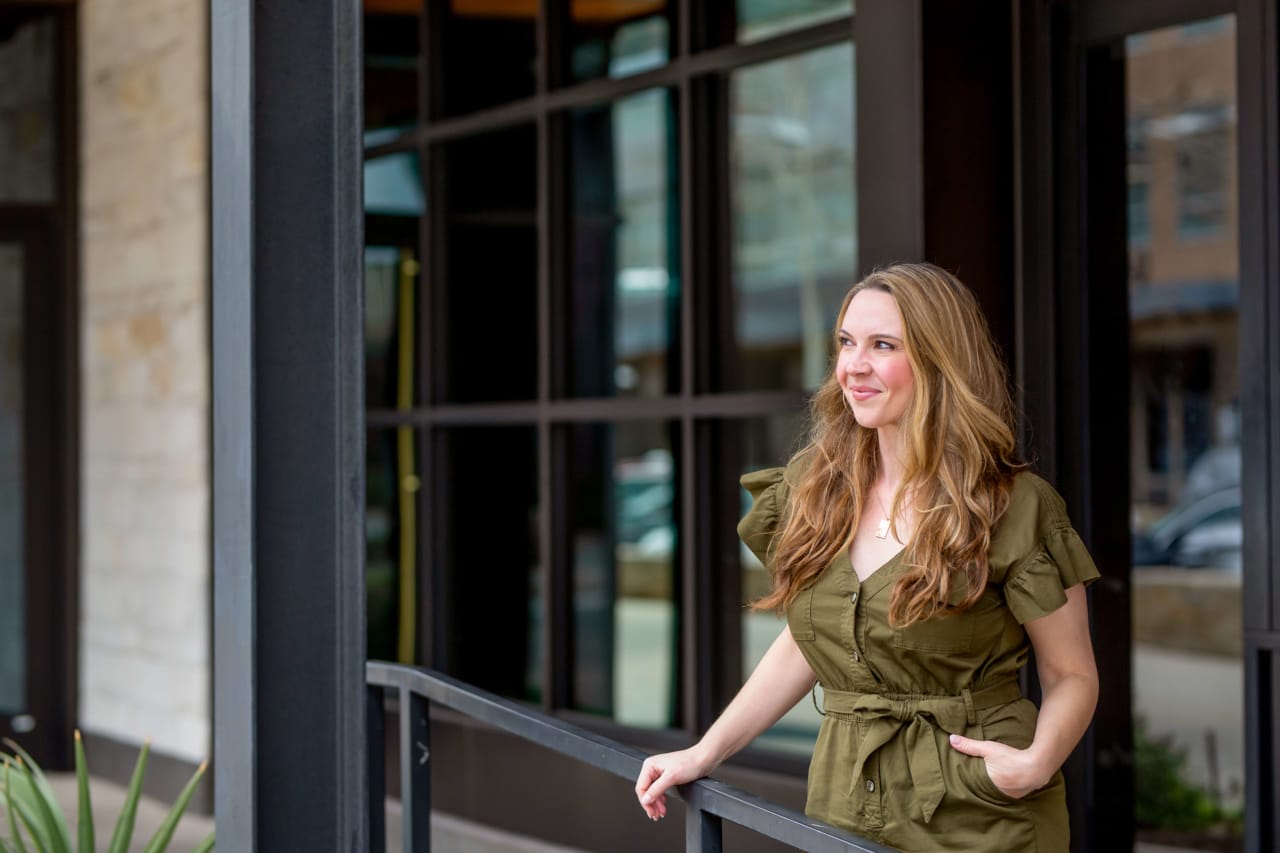 Resolute. Perceptive. Relatable.
Leslie Breeland, Austin Realtor, fell hard and fast for our beautiful capital city when she and her newlywed Austinite husband arrived in 2007. Originally from small town San Angelo, Austin provided just the right amount of "big city" excitement along with an easy, friendly vibe that made her feel right at home.Prior to launching into real estate, Leslie enjoyed a career in civil litigation where she honed the shrewd negotiation and critical thinking skills she puts to work for her real estate clients every day. Her strong business sense, along with high regard for client satisfaction and genuine love for helping people, are what helped Leslie's real estate practice quickly take root.
Leslie works throughout Austin, Round Rock, and Lakeway. She lives in southwest Austin's Circle C neighborhood with her two children, Miles & Blair, husband Matt, and Jerome the pug. Leslie is an alumni of Texas Tech University and Texas
Tech School of Law as well as active member of the Austin Board of Realtors, the Texas Association of Realtors, and the National Association of Realtors. When not hard at work, you can find her engrossed in the latest Netflix documentary, sampling the margaritas on the patio at Matt's El Rancho, and making memories with her family.
Awards
Graduate of the Graduate Realtor Institute (GRI)
Certified Luxury Home Marketing Specialist (CLHMS)
Texas Tech, BA, Public Relations, 2002
Texas Tech School of Law, Doctor of Jurisprudence, 2006
I really enjoy working with Leslie. She is patient with questions and quick with her responses. Her professional and calm demeanor gave me the confidence that she was more than capable of representing me with the sellers and their agent. It's very evident that she has amassed an in-depth knowledge of process from offer to close as well as how that plays into the volatile Austin market. Leslie makes her clients her #1 priority, and that's why I will continue to use her as my real estate agent.
The Austin real estate market can be wild - and that may be an understatement. Buying a home here is similar to winning the lottery. Finding the right property, and then negotiating the right price, is difficult to do. We were so fortunate to have Leslie representing us. Otherwise, I'm not sure we would have been successful. She spent several months watching the market for what we wanted. Our criteria was very specific, and properties that meet our criteria are rarely on the market. When the property we were looking for became available, she was on it immediately. Her experience in the Austin market helped guide us through a tricky multiple offer situation and the subsequent negotiations. Ultimately, it was the relationship she built with the seller's agent that sealed the deal. Then, it was her professionalism that made the transaction go smoothly. We were fortunate to have Leslie as our agent – and that is most definitely an understatement.
Leslie was the best. She was very professional and answered all of our questions super quickly. As first time buyers she made the process as easy as possible. We would trust her opinion on any home or real estate question. I would recommend her to anyone and will be using her services forever. 10/10
Leslie Breeland is a fantastic realtor and just a great person all around. She helped my wife and I buy our first home, and we truly couldn't be happier with both the house and the buying experience. Leslie was masterful in keeping track of all the details and keeping the whole process in motion. She showed us the ropes and offered great guidance while also putting our priorities first and giving us autonomy to make the big decisions. It was a perfect blend of what we were looking for in a realtor. Additionally, she was pivotal in leading us to victory in a competitive deal with multiple offers. Leslie will absolutely be our first phone call for any future real estate needs. We highly recommend her!
I am so happy I worked with Leslie Breeland in buying my first home. Buying in a sellers' market is complex and intimidating, and Leslie's knowledge and experience were invaluable. She made the whole process as simple as possible, I trusted her entirely, and I'm so happy with the results. She wasn't phased by my changing my mind about what I wanted multiple times and she was great at matching my (changing) inclinations with properties that would fit my criteria. Plus, she was really fun to hang out with. She'll be my first call if I ever need to sell or move again.
Leslie from SEED helped me buy my first home and I couldn't be more grateful! She helped me snag an amazing deal in a great neighborhood by finding the house before it landed on the market. Through a very lengthy process with a difficult builder, Leslie was by my side even when it took much, much longer than we expected. She handled all of the communications with the builder and answered my millions of questions along the way, about everything from lenders to interior design to contracts. She was so warm, friendly, understanding, and patient through a very trying (but ultimately rewarding!) homebuying process.
If you're in the market to sell your home, you should hire Leslie Breeland. I owned a property in a great neighborhood in north Austin, but it sat on the market listed with another broker for 6 months...with no offers. I contacted Leslie to advise me on how to get this house sold! She felt strongly that if I remodeled and staged the house, the home would sell much faster and I'd end up with more money in my pocket. Leslie advised me through the entire process- she told me where to put the remodeling dollars, helped me design the kitchen and bathrooms and color palette of the home, found an honest contractor to do the work, connected me with a wonderful stager, positioned the home at a price point that would get it the most attention, and then marketed the home beautifully. I had a cash offer within eight days of the house going back on the market. The results speak for themselves. I couldn't be more pleased with her level of service, taste, industry knowledge, and the end result.
My husband and I were introduced to Leslie Breeland and Tammy Young at SEED Property Group through a family member. We worked primarily with Leslie and she went above and beyond in helping us find our dream home--no easy feat, especially as first-time home buyers. During our initial visit to Austin, we had limited time and were mostly using the trip to get the lay of the land. Leslie spent three days meticulously planning out the right homes to see in each neighborhood and made sure that all of our questions were answered. Next thing we know, we found a home we fell in love with and decided to make an offer. Leslie really listened to all of our concerns and desires and was very responsive at all times. We would not have been able to find our home without her. She is also incredibly friendly and delightful to work with. Overall, we could not be more pleased with the level of customer service and expertise from all members of SEED. Without a doubt, I would 100% recommend working with Leslie, Tammy, or anyone from their team.
When my wife and I had a short time window to find our new home, a close friend recommended we reach out to Seed Property group for help. Throughout the entire home buying process, we couldn't have asked for a better experience! Leslie Breeland is a rockstar. As first-time homebuyers, we were educated early and often on the steps she was going to take on her end to help us out. After completing the inspection, we had a pretty decent list of items that needed to be fixed prior to closing the deal. Leslie was able to effectively organize & communicate our concerns to the seller and every item was covered. We appreciated her courteous yet direct personality to make sure she had our best interest at heart. Whether a new or seasoned homebuyer to the Austin area, I suggest calling the Seed Property group team.
Leslie Breeland is a fantastic realtor; my husband and I are thankful she helped us sell our Austin home as we moved to Fort Worth. She answered every question, ensured our home's pictures and marketing gave us traffic, and reassured us not to worry when the first buyers pulled out. Leslie was also great about communicating and was available to talk through concerns when we had them. I highly recommend choosing Leslie as your realtor.
We can't recommend SEED, specifically, Leslie Breeland, enough! Leslie helped us purchase our first home back in 2016 - and she was able to help us sell that home, and purchase a new one this past Fall. Leslie was ALWAYS available via call or text, was always prompt, and provided us all of the guidance needed. Since the purchase of our new home, she has stayed in contact regarding other homes similar to ours on the market - and reminds us of the amazing investment we made! She is cheerful, knowledgable, and a great negotiator. Would recommend her and SEED in a heartbeat.
SEED Property Group was able to make our home-buying process as simple as possible. Our agent, Leslie Breeland, went above and beyond as she guided us through home finding and offer making with helpful insights from her many years of experience in real estate. Leslie and her team made themselves available to answer any questions and it went a long way in calming us through the sometimes stressful parts of home buying. I would recommend SEED Property Group as a great option for anyone looking to buy a home.
Leslie Breeland at the SEED Property Group worked with both me and my sister when buying our houses. Leslie was awesome and really went above and beyond showing us around and answering questions. SEED made buying our house as stress-free and seamless as possible. Leslie even let my mom text her questions and ask about different houses which she really appreciated. I don't have enough nice things to say about Leslie.