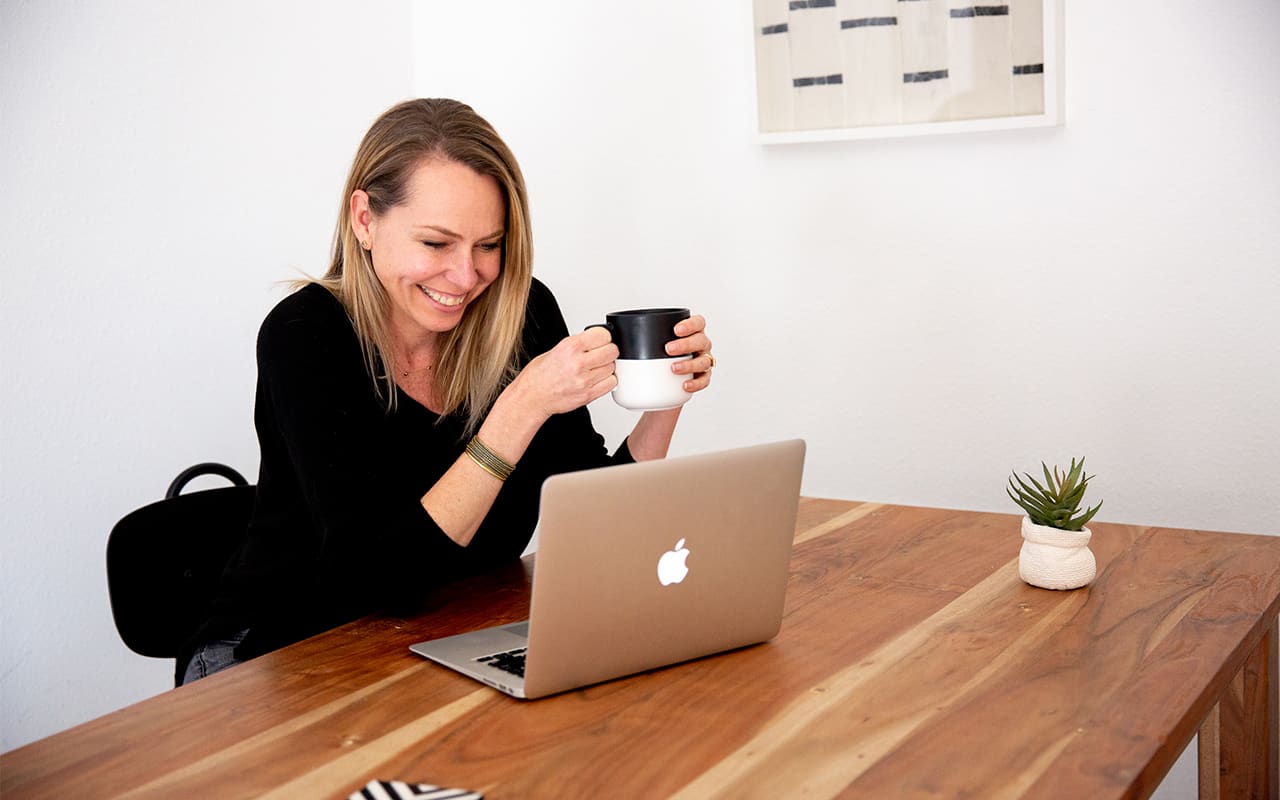 Patient. Insightful. Tireless.​​​​​​​​​​​​​​
In 2016, Tammy launched SEED Property Group, a select team of top-performing Austin agents working together to deliver the most modern, -tech, -service client experience beginning to end. With more than 60 years of combined Austin real estate experience, SEED Property Group has closed more than $450 Million in sales, more than 450 transactions.

After having lived in far away cities and traveled to far away places for most of her young adulthood, Tammy Young relocated with her husband to Austin, Texas in 2004 to "settle down". Drawn by the city's easy ebb and flow, its cool and friendly people, and its lively cultural scene, it was easy to make Austin her home. Prior to real estate, Tammy enjoyed a successful career in fashion for more than 13 years. A graduate of Texas Christian University, Tammy made the decision to move into real estate so that she could travel less and spend more time with her young family at home in Austin. Applying her keen business savvy garnered from her years' experience in sales, marketing, and branding, her real estate career quickly took root, selling several million dollars of homes during her first year alone. Building on a solid foundation of hard work, honesty, and integrity, Tammy's business has continued to grow, almost exclusively by referral, year after year,
Tammy enjoys living in central Austin's Hyde Park neighborhood with her husband and three children. She and her husband actively invest in Austin's real estate market as owners of multiple rental properties. Outside of work, she is involved in her community, giving back as a board member of both her children's school PTA and the Pi Beta Phi Foundation. She is also a member of the Austin Board of Realtors, the Texas Association of Realtors, the Womens Council of Realtors, and the National Association of Realtors. She speaks French fluently. She has lived Austin's transformation from a quirky college town to a thriving, innovative metropolitan city. She draws from her in-depth knowledge of Austin and Austin neighborhoods every day when representing her clients. happy client by happy client. To date she has sold more than 250 homes and more than $125 Million in real estate.
Would have given 6 stars if the system allowed for it. Tammy and her team at SEED Property Group are hands down the most effective realtors I have worked with. SEED handled my home purchase in February 2017 and then my home sale combined with a new home purchased in Fall 2019. Tammy's strategic vision for our home sale was so clearly communicated to us and put us at ease with the process. SEED was creative, analytical and highly responsive. SEED has the absolute best talent doing the best work in Austin today. Larger firms do not have the personality, creativity or responsiveness that SEED has. 6 out of 5 stars.
What we found to be unbelievably rare and, in our opinion, priceless, was that Tammy offered advice, input, and opportunity without being pushy. She was patient with us and let us explore at our own pace. We never felt judged or rushed, just supported and guided. Working with Tammy was an incredible experience and one that we would recommend to others looking to buy a home.
Tammy is one of the most organized, efficient people I have known. I would hire her again without hesitation and I would most definitely recommend her. She handled my entire transaction without me ever having to come to Austin.
Tammy was perfection as a Realtor. She was focused, thorough, and helpful in every possible way. She also found me the absolute perfect house, and I'm thrilled all the way around. I'm also most grateful that my daughter recommended her. She was GREAT!
Tammy Young was incredible! She invested nearly her entire weekend (and we only had one of those to find a home) helping us find the right home. She knew the area really well, and understood exactly what was most important to us, and made sure we stuck to the plan. She invested a tremendous amount of time (2 months) with us prior to my wife and I being able to actually visit the Austin area. She took the initiative to learn who we were as a family, likes/dislikes ETC. It was amazing to watch her in action. She could tell within a minute or two if the house was a fit for us or not. That saved us a lot of time when we were on the road house hunting. What I respected the most was as the time dwindled away, and we weren't even close to finding the right home SHE WOULD NOT let us settle for 2nd best. She just kept reminding us we'll find it; and we did! I'd recommend her to anyone. There was nothing not to like. She was prepared, on-time, organized and was a great negotiator.
Just sold a home in East Austin with Tammy Young. I know it wasn't easy sale but Tammy was utterly fantastic she was always very calm and professional. I would highly recommend her.
Tammy was eager to help me buy my first home. She was super efficient and only showed the homes that matched my criteria. Tammy was always pleasant to be around and easy to work with.
My wife and I had been house hunting for a year plus with little success. We decided to change realtors and met with Tammy. She was referred to us by a long-time friend and we were elated to make this connection. After our first drive together, we knew Tammy was the right choice for us. The three of us would venture out on a couple outings and chat about architecture, area schools, and our ideal neighborhood. I think she really had a good idea of our ideal home after this first outing together. So after over a year of looking, after our initial meeting with Tammy, she found us a beautiful home in Hyde Park in just 6 weeks! Everyone at SEED Property Group was great and very communicative. We were never left wondering, "What's next?" SP always went the extra mile for us, all the way to the closing day and beyond. If you are thinking about buying or selling a home in such a competitive market as Austin, please strongly consider SEED Property Group. They will NOT disappoint.
We absolutely loved working with Tammy as we looked to buy our first time. Her knowledge of the Austin area was impressive as was her ability to negotiate in a competitive market and help us land a beautiful home. We felt like we were in great, capable hands every step of the way. I would highly recommend Tammy to anyone looking to buy a home in Austin.
Our experience with Tammy was great. She was very helpful and knowledgeable both about the market and about what it would take to rehab/remodel some of the properties we looked at. We ended up getting a great deal on a foreclosure in Travis Heights that I'm not sure we would have looked at without her assistance. She was also great at sticking through what seemed to be a somewhat non-standard process for closing on the house and was helpful in calming our fears and helping us get through some challenges with our loan application. Most of all she was fun and cool to hang out with. We will definitely recommend Tammy to our friends.
Tammy took the time to listen to us regarding budget, location, style of house and was able to show us only the houses that were contenders. She seemed to know when houses were about to come on the market and has an encyclopedic knowledge of the central Austin real estate market. Due to Tammy's extensive knowledge and contacts she was able to find us our dream home before it even hit the market. Tammy made what can be a stressful process fun and educational. Tammy will be our realtor for life.
Tammy's professionalism and knowledge of the Austin market are exceptional and matched only by her personality. She peels back the usual formal surface and makes the home buying process both exciting and relaxing at the same time.
We were fortunate enough to have Tammy recommended to us by our daughter, who had purchased a property a couple of years ago with Tammy's help. We very much enjoyed looking for housing with Tammy - her knowledge and professionalism made the process simple for us, and it was always a pleasure to be with her and Megan. We are satisfied with our purchase, and very much appreciate the help and guidance provided to us. We would enthusiastically recommend Tammy to anyone looking for housing in the Austin area.
Tammy was absolutely wonderful. She was great with my pregnant wife and me and we couldn't have asked for more in a realtor as she exceeded all of our expectations. We really wished we could have and would have used Tammy to purchase our new house but she doesn't cover Houston. We would highly recommend Tammy to anyone who is in the market. Also, her assistants Bonnie and Megan are equally as great to work with.
I found myself in a situation needing to purchase and move into a home within 4 weeks. I would not have been able to accomplish that with any other realtor than Tammy. She and her team were so wonderful to us. My family and I were enormously pleased with their availability, prompt communication, and honest advice. When we buy our next home, we will definitely call Tammy.
Tammy Young is absolutely wonderful! I highly recommend her. She was a hard worker and a joy to work with.
Tammy was extremely thoughtful when examining comparables in order to come up with the perfect listing price for our home. She's also extremely knowledgeable about staging of homes, both for listing photos and for showings. My favorite thing about Tammy is that she really appreciates the idiosyncrasies of the Austin market. She embraced our home's funky and eclectic style, and she was right. I'm absolutely confident that Tammy is the reason we were able to get such a high sales price for our home, and able to sell it so fast. We were on the market for three weeks in a buyer's market and made a nice profit.
It's been one year since I bought my home with Tammy and SEED Property Group. I was really impressed with Tammy and her team. During the buying process, I was so focused on buying the home, while Tammy kept her eye on the whole picture - buying AND home features good for resale. She's very knowledgeable about home construction and can spot potential issues very quickly. If you're buying a home in Austin, look no further, this is the group to work with.
We worked with Tammy Young at SEED Property Group to sell our house in Hyde Park and were very impressed with her professionalism and skill as a realtor. Our house was under contract in less than a week and Tammy and her team were a pleasure to work with. I highly recommend this group to anyone looking to buy or sell a home in the Austin area.
Tammy Young has changed our lives in 4 short months! She was the selling agent on a wonderful home in Hyde Park that we snapped up in a few days this summer. Working with her on that transaction gave us 100% confidence to call her to represent us as the sellers agent on our original home this past month. We were under pending in less than 2 days - at $10K over asking! Thank you Tammy, for your professionalism, your insightful guidance and for being a fun and honest partner through an otherwise complicated and emotional time.
Tammy Young must be one of the best realtors in the business and my husband and I feel so fortunate to have worked with her. She is professional, responsive, diplomatic, knowledgeable, calm and friendly -- what more could you want from someone negotiating a high-stakes financial transaction like a house sale? She specializes in older homes and was able to deftly navigate us through the vagaries of selling a period home in Austin. We also had a newborn and were moving out of state during this process--making it one of the most sleep-deprived and stressful times of our lives--but she was incredible in her ability to get us to the other side with a good deal for both us and the buyers. Also, their technical back-end made all of that endless paper signing an absolute breeze. If you're looking for impeccable professionalism as well as someone you can trust with one of the biggest financial decisions of your life, then Tammy Young is your realtor.
Tammy did a really good job for us. She's extremely personable, easy to communicate with, very hardworking, and knows her business. We are entirely pleased to have worked with her.
I was extremely pleased with Tammy's help in this purchase. In fact, I feel very lucky that I happened to know Tammy through our children's school and through this providence got help that couldn't have been more appropriate for my purposes or more kindly provided. Tammy helped answer the many questions that came up during the process and positioned my offer so it had the best chance of being accepted, and it's thanks to her help that this offer was ultimately accepted after 2 other higher bidders ultimately desisted :-). The house I bought is uniquely well suited for my purposes, so I'm extremely happy with this outcome. I had purchased another property in this area in 2008, and although we were pretty happy with the realtor who helped us then (she was a friend who has since left this business), Tammy's help was immeasurably better. I will be extremely happy to recommend Tammy and Realty Austin's services in person within my neighborhood associations and to anyone else who has an interest in buying or selling property in Austin.
We had a great experience working with Tammy. She is friendly, easy to talk to, and she understood our wants/needs in a home and a neighborhood. We went from 'casually' looking for a home to purchasing a home in the course of about 3 months! She was patient with my and my husband's insecurities about home ownership (we were first-time home buyers) and our general picky-ness about where we wanted to live and what house we wanted. We have already recommended her to friends, and we look forward to keeping in touch with her.
Tammy Young from SEED Property Group was referred to me by a friend who was super happy with her home buying process. I could not be happier with the services provided. Tammy is very professional, extremely knowledgeable (she KNOWS Austin neighborhoods inside-out), very personable and AMAZING to work with. Tammy started off by giving us a realistic idea of the neighborhoods we could look at and the kind of space we could expect. She would bucket neighborhoods into up & coming (so potentially great investment), great to live right now, and a mix of both. She would spend dedicated hours talking to us and even helped us in figure out a timeline to start searching for houses based on our budget constraints. She was never pushy, never rushed us and was unbelievably patient as we fussed over little details and our own indecisiveness when it came to the 'perfect' house. Thanks to her experience and because she is so in sync with latest openings, Tammy is able to find houses even before they go on the market. It was incredible how after the first 3-4 houses we visited, she understood our likes and started filtering out options she knew we would not like. That was so great because we never wasted time visiting houses we would not even consider. After a while, we had developed a level of trust with her, where we just stopped, suspended all judgment and trusted her to guide us through to the end and make the right call for us (trust me, we were very nervous home buyers) - and she did such a remarkable job! I'm sitting on my patio right now looking at the gorgeous sunset in my backyard, with a side of Downtown views. I never thought I'd find such a beautiful house that was just perfect for my husband and I. It's all thanks to Tammy and SEED. She even sent us a very thoughtful and beautiful gift for our new house - she has a client for life. I'd recommend SEED in a heartbeat.
Five Star in every sense of the word, from personal experience!!! Tammy just sold our house, with Chelsea's invaluable support, in less than 30 days, after having been on market 6 months with another realtor. Professional, conscientious, expert Hyde Park local and Austin realty knowledge, effective marketing, honest, personable, enthusiastic are only few words to describe the wonderful experience with Seed Realty! We don't use social media, but if we did the praises would be all over it. Netted more than expected, and what had to have been the best experiences doing business of any kind in our long, long lifetimes! Cannot be too effusive giving them best reference they deserve! Thank you Tammy and Chelsea!!!!!
Bottom line is our house sold in less than 30 days at a fair price during a slow time of year. We had a refreshingly positive experience working with Tammy and the team at SEED. Highly recommend them for their connections, top-notch marketing, and calmness during a stressful time.
Tammy Young was fantastic! She was amazing at listening to my needs, helping me prepare my home for sale, and handling every other part of the process. I wanted to sell my home quickly, but not give up too much on the price. She met my every need. She was always proactive and responded to my requests quickly. I would recommend her without hesitation and would work with her again!
Tammy is the best in Austin. She's extremely good at listening to your needs to frame the criteria, catering a specific search to that criteria, then layering in her perspective/experience to advise you to make good decisions, based on your specific framework.
Tammy and her team were exceptional. Very knowledgeable, gave great advice, and always kept my interests at the center of our decision making. Would highly recommend and would use Tammy again for future properties.
We brought on Tammy Young at SEED Property Group as a buyer's agent when looking for a house in Travis Heights earlier this year and had a fantastic experience. What struck us the most about Tammy is her impeccable sense of taste. She has a great eye for quality properties and is honest in her opinion of them. She isn't interested in just getting a deal done, even though there were times it would have been easy to nudge us into a transaction that ultimately wouldn't have been right for us. She wanted to make sure we loved the house we bought and we felt like we got decent value for it, even in a very hot sellers market. Beyond helping us get our dream house, she also has helped us with amazing service professionals - from handymen, to painters, to upholsterers. She has helped us make friends in the area and even gave us a tip on where to find a Covid vaccine! Tammy has gone over and beyond what we'd expect in a broker.
The first thing that sticks out about SEED, and specifically Amy and Tammy, is that they have incredible taste. You know that when you walk into a SEED house, you're going to get quality and advice and care that is above and beyond. That's why we went with them and you can save a lot of time in your home search by picking up the phone and calling them. RIGHT NOW! You don't even need to read further. But to tell you more about our process, we moved to Austin before the pandemic and started looking for homes. We were incredibly picky in what we wanted and SEED understood that and curated our search. When we were ready to put in an offer on this incredibly competitive market, SEED was there every step of the way to take us through it. They were incredibly knowledgable and well-educated about every step of the process and we broke down every home into its components and helped us hone in on what was important to us (our idea of what we wanted vs. what we needed changed as we saw more and more properties)! SEED found us a house that we love, and now, looking at it from 35,000 feet, I can say that our home falls into that great taste category. While we didn't totally see it at first, they did -- It's a fixer-upper but they were able to see the forest through the trees and we couldn't be happier. Amy got it done when it mattered, and we're now proud, proud homeowners! I can't recommend SEED, Tammy, and Amy enough. They made the process fun and enjoyable and their bespoke attention to us and to detail would have us coming back time and time again if they didn't already find us our forever home! THANK YOU, SEED, and to those that read on, CALL THEM RIGHT NOW!!!
Tammy represented me on the sale of two homes in Austin. Both homes had previously been rental properties. With Tammy's maintenance contacts and assistance, I was able to renovate the properties quickly and smoothly from my home in California, enabling me to get top dollar on both houses. Tammy suggested paint colors and shopped online for lighting and other fixtures. She sent me the links, so all I had to do was click and pay! Several times with very short notice, I needed her to meet a worker or delivery person at one of the houses and she never hesitated. If she wasn't available, someone came from her office. I found Tammy and her team to be professional, knowledgeable, and efficient.
Most days I didn't realize I was even selling a house as they handled everything on their end seamlessly. Tammy and her team are also very generous with their time and willing to respond to questions that I had and have about other properties. I would definitely use them again.
Tammy Young is the best! She met with us a few months before we put our house up for sale and we put together a plan to to prep the house and sell it at the right time. Tammy knows the market well and will give you honest advice on what to do and what offers to take seriously.